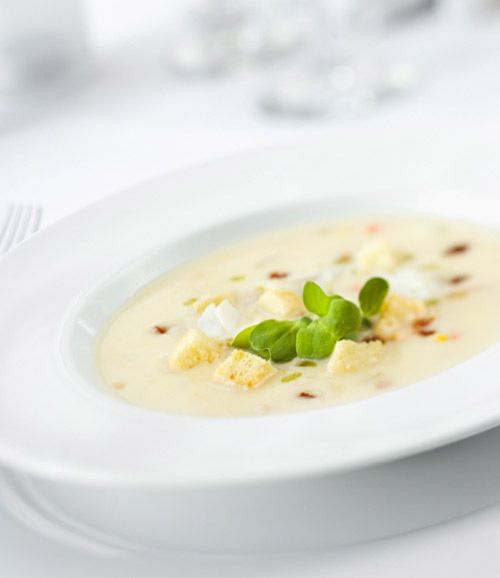 Made with only the freshest, local ingredients, Sanderlings at Seascape Beach Resort in Northern Califonia brings us this classic version of clam chowder. The clams, potatoes and bacon make this a is hearty appetizer that's rich with flavor and award-winning!
Servings:
6
Cook Time:
30 minutes
Pair With:
A California Chardonnay, like the Manzoni Santa Lucia Highlands Chardonnay.
INGREDIENTS:
1 onion, chopped
1 celery stick, chopped
1 strip bacon, diced
1 oz. butter
2 oz. flour
Sprinkle of chipotle pepper
1 cup heavy cream
4 cups clam juice
1 red potato, 1/4" dice
1 teaspoon fresh thyme
1 tablespoon fresh parsley, chopped
1 teaspoon white pepper
1 tablespoon salt
1 teaspoon white pepper
1 bay leaf
4 cups of chopped clams (4 lb washed whole clams)
1 teaspoon Worcestershire sauce
Dash of Tabasco sauce
DIRECTIONS:
In a heavy soup pot, add butter, render bacon to a crisp. Add flour.
Cook slowly, stirring for 5 minutes. Add clam juice, cook until smooth.
Slowly stir in cream. Blanch potatoes separately in boiling water for 1 minute. Add herbs, seasonings, clams and potatoes.
Adjust seasonings to taste. Enjoy the creamy texture of this flavorful soup—a perfect way to warm the heart and stomach!