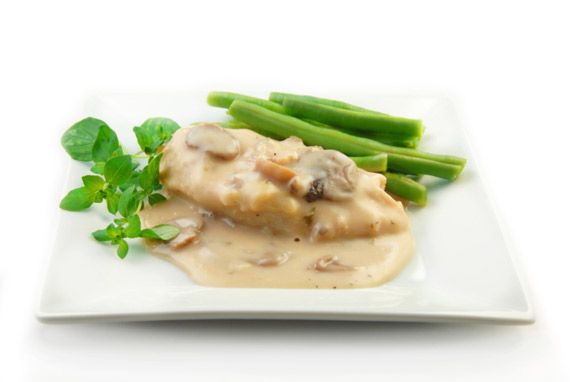 Photo Courtesy of Yamhill Valley Vineyards
"Coq au vin" means "chicken in wine". The classic French dish can be made with red wine or white. This recipe from Mama Eberle uses the Yamhill Valley Vineyards Pinot Blanc, redolent of pear, kiwi and melon. Sip this lovely wine with skinless chicken breast lightly sauced.
Servings:
4
Cook Time:
40 minutes
Pair With:
The Yamhill Valley Vineyards Pinot Blanc
INGREDIENTS:
5 tablespoons salted butter
4 skinless chicken breasts
1/2 cup Yamhill Valley Vineyards Pinot Blanc
Juice from half a fresh lemon
7 whole garlic cloves
Flour
Salt and pepper
3 teaspoon salt
1/3 cup capers
DIRECTIONS:
1. Melt 3 tablespoons of the butter in a pan – add chicken breasts which have been washed, patted dry and coated in flour, salt and pepper. Brown chicken, but don't let the butter burn.
2. Do not cover while cooking. Once the chicken is browned on all sides, remove and place on side dish.
3 To the pan with the browned butter, add 1/2 cup Yamhill Valley Vineyards Pinot Blanc, juice from half of a fresh lemon (no seeds please) and 7 garlic cloves smashed. Stir until thoroughly combined.
4. Replace browned chicken breasts, cover and cook for approximately 15-20 minutes, until chicken breasts have been cooked through. Remove the chicken breasts and place on side dish.
5. In a small bowl or shaker, mix 3-4 tablespoons flour and 1/2 cup water until completely blended (no lumps).
6. Add 2 tablespoons butter to pan, melt and scrape up browned chicken remains in pan , then add flour mixture. Stir and cook until a nice, thickened gravy is formed (use more flour if needed).
7. Toss in 1/3 cup capers and mix until warmed. Pour gravy and capers over chicken breasts and serve.