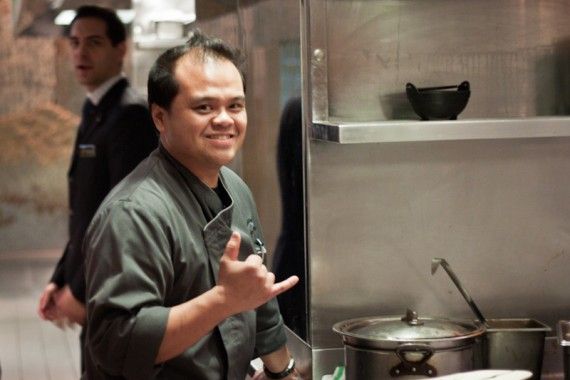 Bellagio, las Vegas
Royden Ellamar, executive chef at Sensi,
Las Vegas
, grew up around food and sustainable food practices, as he was raised in a farming family in Hilo, Hawaii. No matter what chef position he held, he worked with local farmers and food purveyors to bring their produce to the restaurant table. He worked at the Four Seasons Restaurant Hualalai, and was the chef de cuisine at the Seasons Restaurant at The Four Seasons Chicago. In 2011, Ellamar was named the executive chef at Sensi, after three years as their chef de cuisine.
We interviewed him recently and discovered his belief that food actually creates community. He feels his calling, wherever he is, is to build strong relationships with the sustainable farming community, as it is a necessary root system of acquiring the best food for the Sensi restaurant table.
JustLuxe: You came from a farming family in Hilo, Hawaii. What did you learn from growing up in a farming family?
Royden Ellamar:
I learned about the intimate process of growing the food you prepare, then eat. As a farmer, I had an intimate relationship with food—maybe more than most people, as you can grow something for a seed, see it mature, then pick it and eat it. I think everything tastes better if you are part of this process, and your DNA defines sustainability.
Bellagio/MGM Resorts Las Vegas
JL: I have heard you use local food sourcing for some of the dishes you use. Where are they? And what kind of food can you acquire and grows well in Nevada?
RE:
You probably think Nevada is all desert and dust storms! And that you can only grow hot peppers and okra is this kind of climate. But it is not true! Many people have farms in towns outside of Las Vegas—Boulder City and Pahrump to name just two—who use greenhouse and hydroponic farming techniques. We source tomatoes, onions, lettuces, and a great variety of beans, corn, snap peas, and other fresh vegetables. I think it is crucial that a chef buys locally if at all possible, as it supports the community financially, and builds a greater culinary community in the process. Sometimes we go north; I used smoked trout from Idaho. And oh yes, I also started an herb garden on the roof of Bellagio!
JL: Are you doing anything else to promote local food ideas at Sensi?
RE:
We are! In the near future, we are adding QR codes, or scan boxes to our menu, so those who eat at our restaurant can scan the box and see when and where the vegetables were picked, the meat was imported, and from whom. They will get a sense of the freshness and location for the food they are eating. At Sensi, we are working toward the educating as well as delighting the guest.
JL: A chef I interviewed once said that he could taste the food/spices/ingredients before they were prepared, defining a kind of sense memory. Do you have this?
RE:
I think most all chefs who have been around food for awhile have this sense memory. I can think about adding some spice to a dish, and I know what it will taste like before I even prepare it. It is like having taste buds in your head before they are validated on your tongue!
Bellagio/Las Vegas
JL: What are some of your favorite and most original dishes that you prepare at Sensi?
RE:
All the dishes are my favorites! However, some of the more interesting and popular combinations are yellowtail sashimi with Maui onion salsa, all of the Sensi rolls; but the one with black truffle combined with tuna tartar is a favorite, Thai coconut and shrimp soup flavored with kaffir lime and lemongrass. With our lobsters we have a chili and licorice glaze. But in other dishes we use miso ponzu, yuzu cr?me, tamarind, Hawaiian fern, and saffron.
JL: What is your favorite kitchen tool?
RE:
My tongue, my brain.
Visit
anchor text
to learn more.