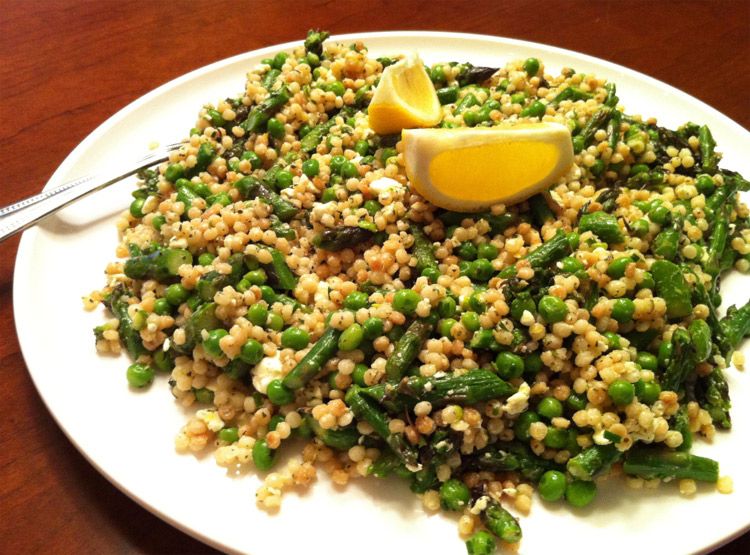 Photo Courtesy of Patrick Brys
This recipe comes courtesy of Patrick Brys of
Brys Estate Vineyard & Winery
in Michigan. Serve this with grilled shrimp splashed with fresh lemon juice, a Panko coated chicken breast (see additional recipe), or have it as a casual lunch with your favorite sandwich. Don't forget to pair it with a great Chardonnay.
Servings:
6-8
Cook Time:
30 minutes
Pair With:
2009 Brys Estate Vineyard & Winery Naked Chardonnay.
INGREDIENTS
For the Couscous:
olive oil
zest of 1 lemon
juice of 1/2 of a lemon
1 clove garlic, minced
1 cup Israeli Couscous
2 cups chicken broth
2 bunches fresh Michigan asparagus
1 cup frozen peas, thawed under cold running water
1/3 cup chopped fresh chives
1 teaspoon dried mint
1/2 cup crumbled Feta cheese
salt, pepper
For the Panko Chicken:
6-8 boneless, skinless chicken breasts
flour
2 eggs, whisked together
Panko (Japanese bread crumbs)
olive oil
salt, pepper
fresh lemon juice
DIRECTIONS
For the Couscous:
Preheat oven to 400 degrees. In a small bowl, whisk together 2 tablespoons olive oil, lemon zest, lemon juice, garlic, 1 teaspoon salt and 1/2 teaspoon fresh ground pepper. Set dressing aside.
On a large sheet pan, toss asparagus with olive oil, salt and pepper and roast in a 400 degree oven for 6-8 minutes until bright green and crisp tender. Set asparagus aside.
In a large sauce pan, heat 1 tablespoon olive oil over medium heat. Add couscous and a sprinkle of salt and sauté till golden brown, stirring frequently about 5 minutes. Add 2 cups broth and bring to a boil.
Cover and reduce heat to medium-low and simmer until the liquid has been absorbed, about 10 minutes. Transfer couscous to a large mixing bowl.
Once the asparagus has cooled, chop diagonally into 3/4 inch pieces. Add asparagus to the bowl along with the peas, dressing, feta, chives and mint. Toss well and serve.
For the Panko Chicken:
Preheat oven to 350 degrees. Pound chicken breasts thin. Dredge in flour, then in whisked eggs, then in Japanese Panko Bread Crumbs. Drizzle olive oil in a large fry pan and cook chicken over medium high heat on both sides until golden brown.
Transfer chicken to a baking sheet and cook in the oven until the chicken is cooked through (cooking time will vary by thickness.) Remove from oven, squeeze fresh lemon juice over each breast, sprinkle with salt and pepper and serve.