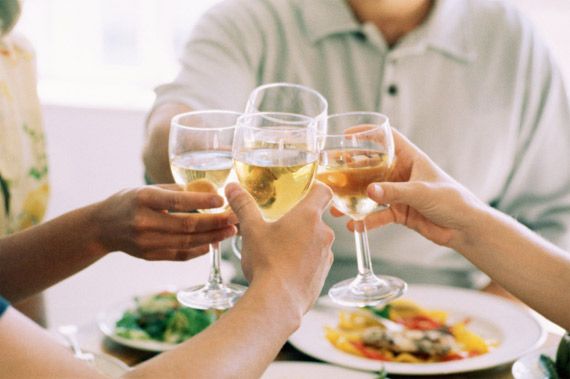 With
Father's Day
approaching, many of us have meaningful things to say. Like, "I love you" and "Sorry I wrecked the Toyota when I was home from college a few years ago" and "Thanks for letting me borrow your beach house 15 summers in a row." When the words don't come easy, and a gift card doesn't seem adequate, there is always a way to say it with food—or a great bottle of liquor. Here's our list of the best 2012 food-and-booze bonding experiences for dads and those who love them. 
Bespoke Bloody Marys & Burger Brunch
For most Sundays of the year, brunch is controlled by ladies and family birthday outings. But on Father's Day, salads and quiche get pushed aside in favor of gourmet burgers, truffle fries, and spicy top-shelf Bloody Marys—bottomless, if possible. The Peninsula Chicago is doing a guy-friendly gourmet buffet in The Lobby, with choices ranging from build-your-own organic beef burgers, BBQ pork belly burgers, cowboy ribs and bacon mac n' cheese. (Photo courtesy of The Peninsula Chicago)
Mini Salad Bouquets: Try This at Home
If you're duplicating the build-a-burger buffet concept for a backyard party, take the advice of Hamptons celebrity caterer Andrea Correale, and sneak some healthy greens onto the side dish table.
"Simply take a Roma tomato, cut the bottom so it will stand upright, cut the top and hollow out with a spoon. Stuff with baby Romaine or red leaf lettuce and voila! You have a gorgeous garden salad bouquet. Place a few dressings on the side so your guests can drizzle their favorite on top," Correale suggests.
Gourmet Happy Hour
So the last couple years have you strapped for cash. You can still celebrate—in fact, you can even treat. You just have to know where (and when) to go. One posh brand that consistently delivers gourmet bargains during off-hours is Kimpton Hotels. Each property's restaurant-lounge offering is different, but the emphasis on affordable, stylish hospitality is brandwide . In Los Angeles, BLVD 16 in the Palomar has a Happy Hour "bites" menu with small-plate portions of fish tacos, sliders, skinny fries and more for $3/$5/$8/$10. It's no hardship to keep a 2-person check under $25.
USDA Prime Steaks. That Is All.
Culinary trends may come and go, but a great steak always hits the spot. And if you're treating the patriarch, we suggest one of the classic steakhouses that's been around for generations and hasn't deviated from tried 'n true quality. At high-end chains like Morton's, Ruth's Chris or Del Frisco's (pictured), a juicy bone-in rib eye or tender filet is understood to be the perfect key to happiness—with conversation and side dishes being optional add-ons. (Photo courtesy of Del Frisco's)
Go Heart-Healthy on the Side
If you're doing steak with the trimmings, skip the potatoes au gratin and the mac 'n cheese. No one's system really needs all the extra grease and carbs. Balance the hunk of meat with perfectly trimmed asparagus, baby carrots or a classic iceberg wedge. If you're hosting and want to razzle-dazzle everyone with your chef skills, try Andrea Correale's grilled zucchini rollers—recipe available at
AndreaCorreale.blogspot.com
.
Cigars and Mad Men-Era Cocktails
A strong cocktail and a cigar in a place like the recently revamped Carnegie Club cigar lounge in Midtown Manhattan (pictured) is a timeless bonding experience, given new relevance by AMC's moody hit
Mad Men
. Unlike most Don Draper-inspired moments, this won't be regrettable in the light of day. (Photo courtesy of Carnegie Club)
Louis Royer
If you're too far away to treat Dad to drinks and stogies a bottle of some high-end, high-proof spirit says "You're the man" just as eloquently. Recommended: Louis Royer "Force 53" VSOP Fine Champagne Cognac, a libation equally delicious whether neat or in a craft cocktail like the negroni pictured. (Photo courtesy of Louis Royer)
Wood-Fired Pizza and a Big Red
It doesn't matter whether you're in Brooklyn or Chicago or the California coast: The perfect al fresco meal on a summer evening is a simple wood-fired pizza and a great Cabernet or Barolo. The custom-built outdoor pizza oven at Farmstand 46 in Paso Robles is one of the biggest attractions for 250 miles—and like most pizza joints, it's no-res-required, even on holiday weekends. (Photo courtesy of Farmstand 46)
Roast Beast
The smoke, the sauce, the mess, the carnivorous delight of a heaping plate of barbecue: It's the ultimate all-American feast, and perfect for family celebrations where nobody cares about table manners or keeping their clothes pristine. For home chefs looking to be inspired, we recommend the "big as Texas" flavors of Chef Tim Love, Ft. Worth master of classic grilling, smoking and "New Q." The mouthwatering hunk of meat pictured above comes from his latest restaurant, Woodshed Smokehouse. Do it up yourself with recipes from ChefTimLove.com. (Photo courtesy of Woodshed Smokehouse)
Foie Gras: The Special-Occasion Indulgence
With the foie gras ban effective in California within a matter of days, it's West Coast foodies' last chance to indulge in this ultimate Francophile treat. As for the rest of the nation: most agree, even with no ban, a holiday is the only justification for ordering such an expensive (and controversial) dish. Every chef's got a different way to prepare, from a simple terrine to the foie-stuffed doughnuts at Umamicatessen in LA or the foie gras French toast (pictured) at trendy cosmopolitan meatery STK. (Photo courtesy of STK)