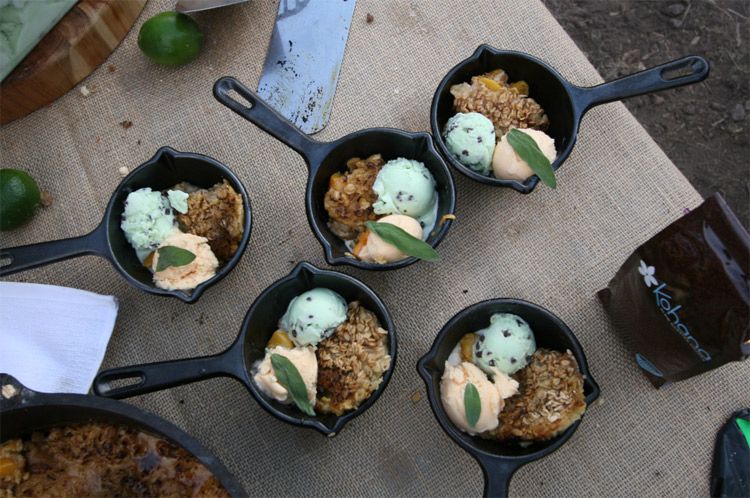 Photo Courtesy of GE
This recipe comes courtesy of Cooking Channel's Chef Ben Sargent of
Hook Line and Dinner
and GE Engineer Justin Berger. They took a 2,000-mile road trip with a refrigerator strapped to the back of their pick-up truck. The goal: To find the freshest ingredients along the way to prepare a meal for wildlife biologist Ron Thompson who was working in Texas. This beautifully rustic dish turned out to be his dessert.
Ingredients:
Serves 6-8
3 cans of sliced peaches in heavy syrup; drain only 2 cans
1/2 cup of fresh sliced peaches
1 box of white or vanilla cake mix
1 stick of butter
1 bunch of Basil Leaves rinsed and dried
1 bunch of Mint Leaves rinsed and dried
1 cup of quick oats
Directions:
Drain two cans of peaches and put in 13 x 9 pan. Add the can of peaches with liquid and fresh peaches and bake at 350 degrees for 7-10 minutes to soften. Remove from oven.
Sprinkle 1/2 box of vanilla cake mix onto peaches. Slice up one stick of butter into little pats and drop all over the top of cake mix Sprinkle oats on top.
Cook for another 30-40 minutes or until bubbly. Spoon ice cream into ramekins. Scoop peach mixture on top of each. Top with basil and mint leaves. Serve.