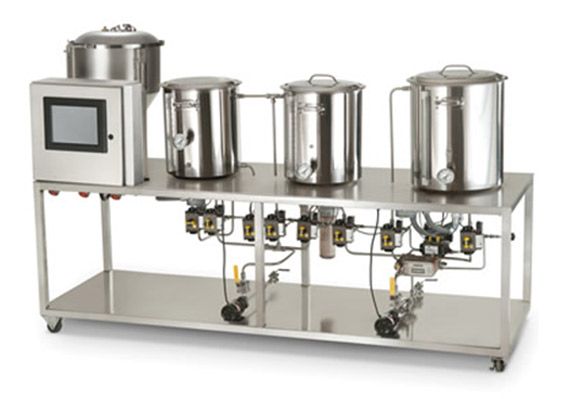 Photo Courtesy of Hammacher Schlemmer
Home brewing is all the rage, with everyone from hipsters to business types getting in on the do-it-yourself activity. But many
home brewing
kits fall flat when it comes to the actual brew, leaving family and friends trying to fake encouragement while trying not to gag. If you're really serious about brewing it yourself, then what you need is a professional brewery and luckily, Hammacher Schlemmer just happens to have one.
If you have space and a water connection, then, at the touch of a computer screen you can have your choice of lager, Hefe-weizen, or stout. The Hammacher Schlemmer home brewery is the same professional automated microbrewery system that can be found in brewhouses, but scaled down to fit the needs of the home brewer. Just put in your recipe and let the clever computer do the rest.
Composed of stainless steel, the microbrewery looks as high tech as it is efficient. Rather than the typical "kit" sold to most homebrewers, the professional microbrewery includes a fully automated Heat Exchange Recycling Mash (HERM) system, complete with a 15-gallon hot liquor tank, a 15-gallon mash/lauter tun that extracts sugar from the ground grain, or mash, a boil kettle and the final step of the brewing, a fermentation tank. To make it extra easy, electric level sensors, gauges, and temperature detectors control the whole process.
The microbrewery is exclusively available at Hammacher Schlemmer, in case you decide to start making your own pints because the local joint just isn't doing it for you anymore. Oh, and you happen to have room for the $45,000 device and the extras. Go to
Hammacher.com
to learn more.