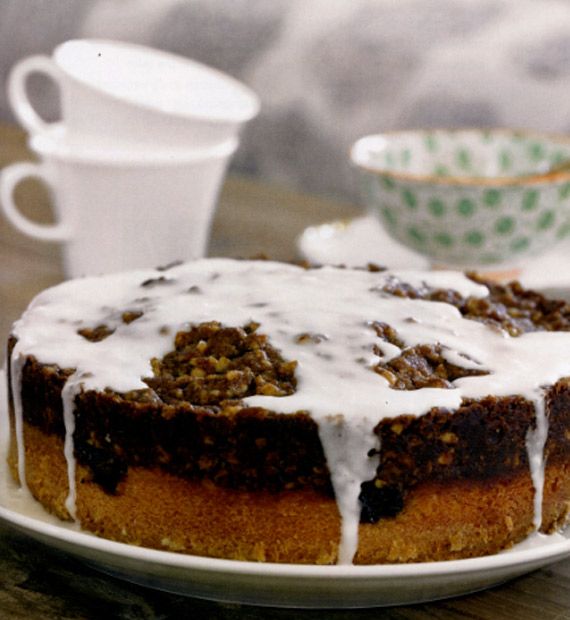 Photo Courtesy of Katie Lee
This delightful dessert recipe comes to us from celebrity chef, author and former host of
Top Chef
, Katie Lee.
Sometimes I think I love brunch only because it's an excuse to make this coffee cake. Once I accidentally bought whole-wheat cake flour and made it with that and it was actually really good, just a little denser in texture. Try it with regular cake flour, or whole-wheat for a healthier take.
Katie also recommends pairing her brunch recipes with Clos du Bois Chardonnay.
Servings:
6
Prep time:
30 minutes
Cook time:
60 minutes
Ingredients:
For the topping:
6 tablespoons (? stick) unsalted butter, melted
? cup light brown sugar
1 cup finely chopped walnuts
1 tablespoon ground cinnamon
2 tablespoons all-purpose flour
For the batter:
3 cups cake flour
2 teaspoons baking powder
1 teaspoon baking soda
? teaspoon kosher salt
? pound (2 sticks) unsalted butter, at room temperature
2 cups white sugar
4 extra large eggs, at room temperature
1 cup sour cream
2 teaspoons vanilla extract
1 cup blueberries
Directions:
Preheat the oven to 350°F. Grease and flour an 11-inch springform pan.
For the topping:
In a bowl, combine the melted butter, brown sugar, walnuts, cinnamon, and flour. Set aside.
For the batter:
In a mixing bowl, sift the flour with the baking powder, baking soda, and salt. Set aside.
Using an electric mixer, cream the butter and sugar until light and fluffy, about 5 minutes. Add the eggs, one at a time.
Mix in the sour cream and vanilla. Slowly add dry ingredients, taking care not to overmix.
Pour one half of batter into the prepared pan. Sprinkle the blueberries evenly over the batter. Pour the remaining batter over the blueberries. Sprinkle with the topping.
Bake 50 to 60 minutes. Cool completely on a wire rack and remove from the springform pan. Transfer to serving plate and drizzle with glaze.
Ingredients
For the glaze:
? cup confectioners' sugar
2 tablespoons milk
1 tablespoon fresh lemon juice
Directions
For the glaze:
Whisk all ingredients together until smooth. Drizzle over the cake.