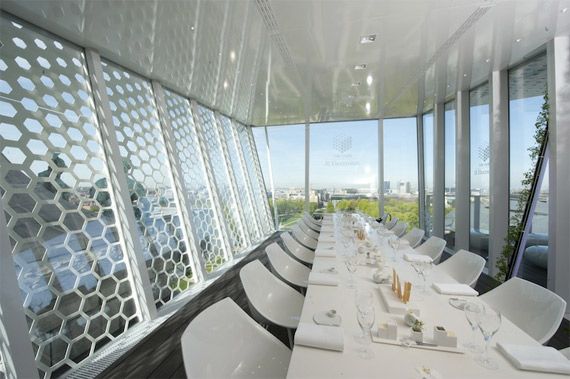 Photo Courtesy of Electrolux
For four months, the London Royal Festival Hall and the Stockholm Royal Opera House will both feature an unique
Electrolux dining experience
. The culinary concept, titled "The Cube," will provide a once-in-a-lifetime opportunity to dine inside an incredible venue and enjoy exclusive culinary creations prepared by Michelin-starred chefs. Starting June 1, some of Britain's top chefs will cook for 18 guests amid a backdrop of London's Big Ben and the River Thames, while on June 18 Stockholm's venue will allow guests to dine while looking over the Swedish Palace.
Six handpicked chefs from the British Isles, including Chef Sat Bains, Claude Bosi, Tomi Kitchin, and Daniel Clifford will work alongside winners of Chef Gordon Ramsay's "Best Restaurant 2010," Jonray and Peter Sanchez to create dishes made from locally sourced ingredients. Although the menu will be kept a secret until the experience begins, it's assured the chefs will be preparing world class dishes.
In both Stockholm and London, the angular cube that houses this culinary experience utilizes Scandinavian minimalism, blending dark and light woods and boasting aerial views of its respective cities. The cube is semi-transparent and includes a modernistic interior as well as an outdoor terrace. Stockholm's roster of celebrity chefs includes Mathias Dahlgren, Johan Jureskog, Manus Ek as well as Swedish Chef of the Year Klas Lindberg.
The concepts in London and Stockholm will be open daily for both lunch. In London the event will run from June 1 to September 30, with lunch served at a price of $274 a person and dinner at $337 a person. In Sweden the event will begin June 18 and end October 21. The rates in Stockholm will be $209 a person for lunch and $375 a person for dinner. The prices reflect the inclusion of all drinks.
To learn more about how to book this experience visit
Electrolux.co.uk
and
Electrolux.se
.