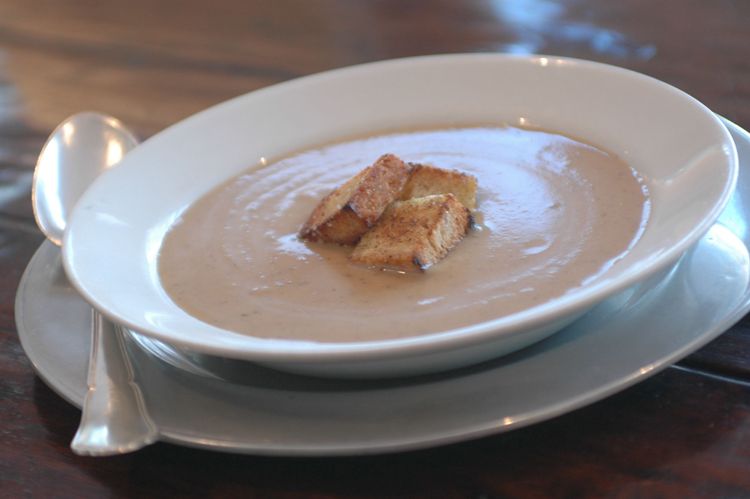 Photo Courtesy of Patrick Brys
This hearty and healthy soup comes courtesy of Patrick Brys of Brys Estate Vineyard & Winery in Michigan and would be perfect to warm up those cold winter days - and it couldn't be easier to make! Serve this as a perfect starter for a winter dinner or for lunch on a snowy day! This soup pairs beautifully with a good sized glass of the Brys Estate Vineyards & Winery Cab/Merlot blend!
Servings:
6-8
Cook Time:
50 minutes
Pair With:
2009 Brys Estate Vineyard & Winery Cab/Merlot
Ingredients:
2 heads of cauliflower, cut into florets
1 large russet potato, cut into 1 inch cubes
1 large yellow onion, cut into 1 inch wedges
8 cups chicken stock
1/4 cup heavy cream
salt, I prefer Kosher
fresh ground black pepper
olive oil
Directions:
Preheat oven to 425¬į.
Place the prepared cauliflower, potato, and onion on a large sheet pan. Drizzle with olive oil and sprinkle with salt. Toss.
Place sheet pan in the oven and roast for 30-40 minutes (turning once) until the cauliflower is nicely browned.
Transfer vegetables to a large soup pot. Add chicken stock and bring to a boil. Cover and simmer for 20-30 minutes until the vegetables are soft.
Using an immersion blender (one of my favorite kitchen gadgets), puree soup. If you don't have an immersion blender you can always puree the soup in batches in a traditional blender or food processor.
Once pureed, add cream, 1 1/2 to 2 teaspoon salt (depending on the chicken stock you use) and 3/4 teaspoon pepper and stir to combine.
Serve garnished with fresh made croutons.
To make the croutons cut up bread of your choice (for this soup I prefer pumpernickel or multi-grain) in large chunks, toss with a little olive oil, salt and pepper then cook in a large skillet over medium heat until browned and crispy on all sides.