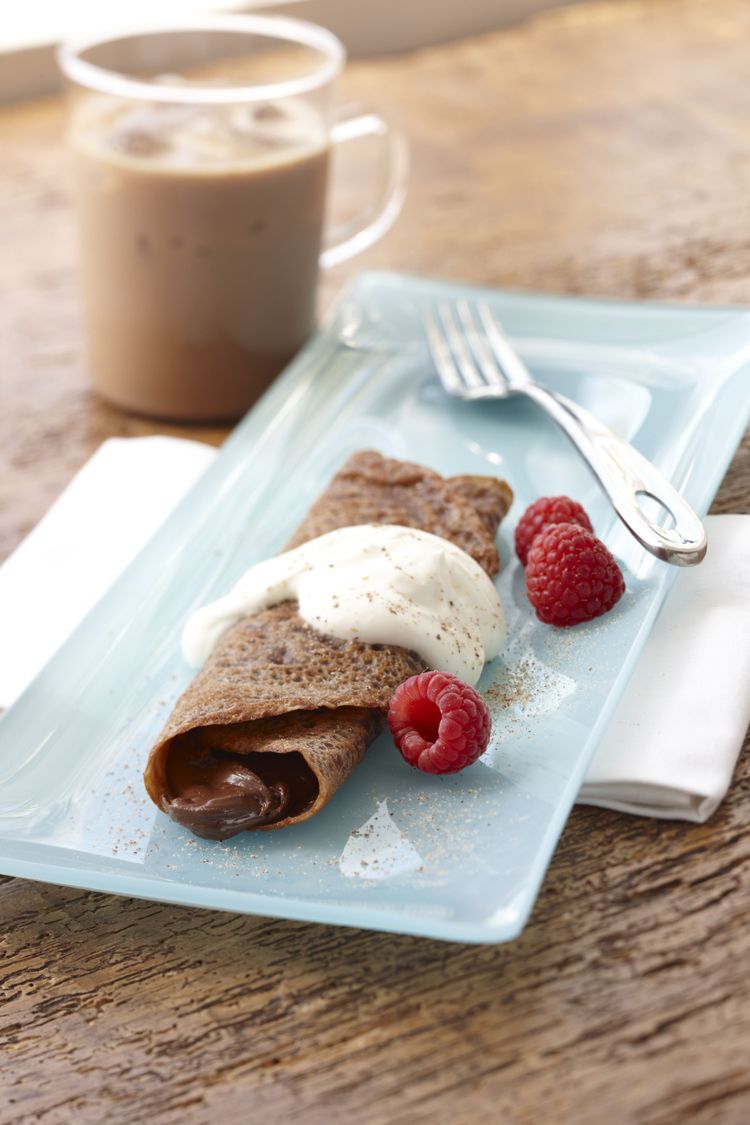 Photo Courtesy of Spice Islands
This tasty chocolate crepe with hazelnut filling recipe comes to us from Spice Islands. Pair with some fresh raspberries or blueberries and this dish would make for a great breakfast, or an even better dessert that is sure to impress guests.
Prep Time:
20 minutes
Chill Time:
1 hour+
Cook Time:
2 minutes/crepe
Yields:
6 to 8 servings
Ingredients:
2/3 cup all-purpose flour
1 tablespoon cocoa powder (Dutch processed is recommended)
1 tablespoon sugar
1/4 teaspoon salt
2 eggs
2/3 cup milk
1/2 teaspoon Spice Islands Vanilla Extract
3 to 4 tablespoons butter, melted (plus additional for cooking crepes)
2/3 cup chocolate hazelnut spread
1/2 cup creme fraiche
Generous shaving Spice Islands Nutmeg, Whole
Directions:
Whisk flour, cocoa, sugar and salt in a medium mixing bowl. Whisk in eggs, half the milk and vanilla to form a paste. Whisk in remaining milk. Pour batter through a fine mesh strainer into another mixing bowl. Stir in melted butter. Cover bowl and chill in refrigerator at least one hour.
Heat crepe pan (or 8-inch non-stick skillet) over medium heat. Brush pan with small amount of melted butter. Stir batter. Ladle 3 to 4 tablespoons of batter into the pan; enough to form a thin layer. Quickly lift and rotate the pan in order to spread batter evenly.
Cook for approximately one minute until crepe is lightly browned on the bottom and set on top; lift and turn with spatula. Cook an additional 30 to 45 seconds. Remove crepe and place on plate. Cover with paper towel. Repeat with remaining batter. Cool crepes.
Spread 1 to 2 tablespoons of chocolate hazelnut spread onto each crepe; roll and place on serving tray. Dollop or spread creme fraiche over crepes. Generously grate whole nutmeg over plate. Serve.