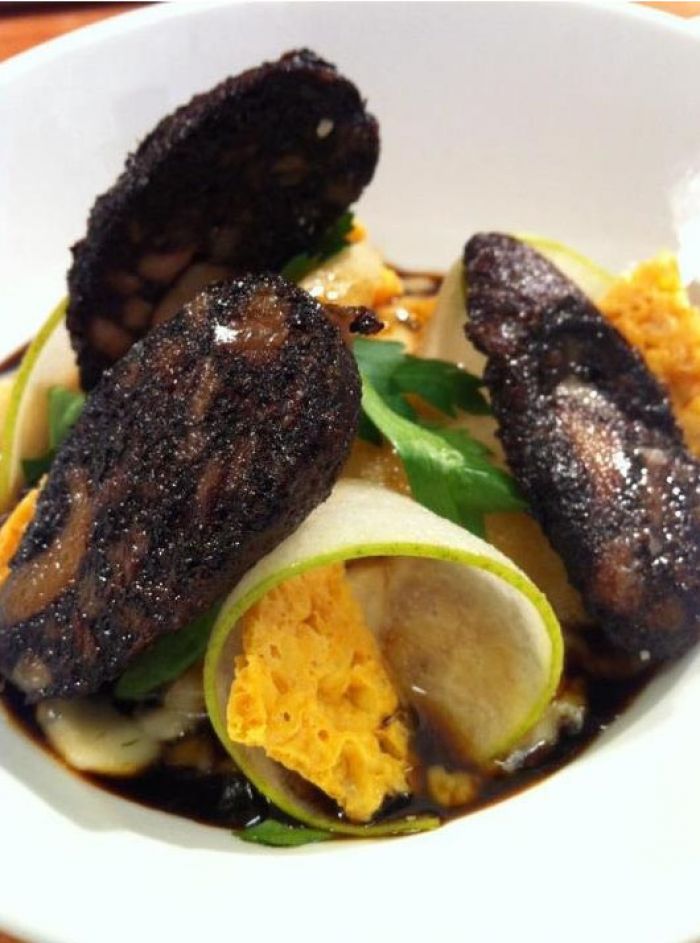 Photo Courtesy of Eric Greenspan | The Foundry
This creative recipe for Guinness and Cheddar Risotto with Pears and Blood Sausage comes to us from Chef Eric Greenspan of The Foundry on Melrose in Los Angeles. The pairing of pear with blood sausage is unique and makes for a very appealing dish. We can't wait for you to try it out and let us know what you thought!
Serves
: 4
Ingredients
1 cup Arborio rice
¼ cup diced onions
¼ cup diced pears
4 # of butter
1 bottle Guinness
½ cup grated aged white cheddar cheese
½ cup grated yellow cheddar
2 pears, cut into 1/8 each
1 pear, thinly sliced
2 oz molasses
2 links blood sausage
Directions
Sautee chopped onions and diced pears until translucent. Add rice and lightly toast the rice. Add the Guinness and reduce until dry, constantly stirring. Add butter, and white cheddar cheese until emulsified and rice is cooked.
Place grated cheese on a baking sheet and bake until crispy. Let cool, and shatter into small pieces
Take the sections of pear, and glaze with butter and molasses and sautee until tender.
Roast the blood sausage in the oven until cooked, approximately 10 minutes. Slice on a bias.
Place the risotto inside the bowl. Top with chunks of sausage and sautéed pear, shards of crispy cheddar and thin slices of pear.