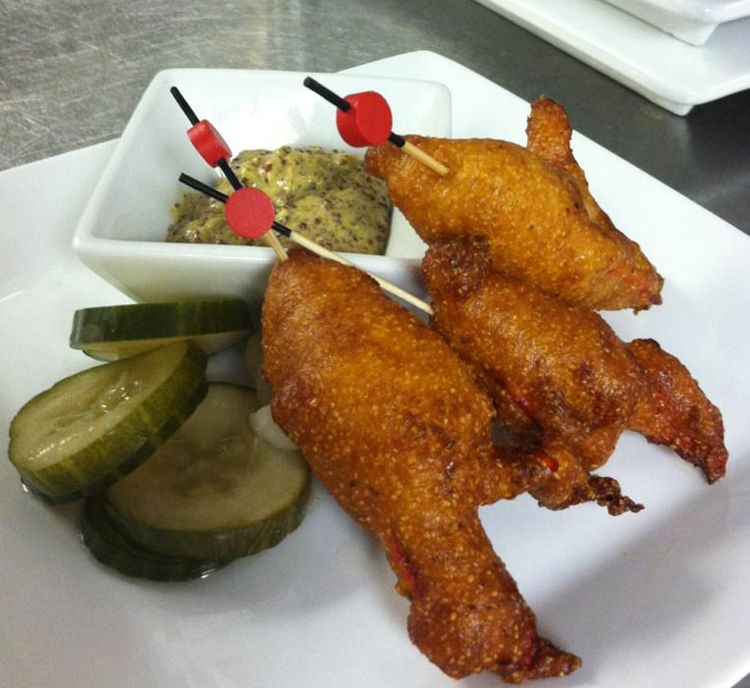 Ingredients:
Cooked lobster meat; preferably the tail of a 1 ? pound lobster cut into 4 long pieces
Corn Dog Batter (recipe to follow)
2 oz creamy mustard dip (recipe to Follow)
Your favorite Pickles
4 Bamboo tooth picks
? gallon Peanut oil to fry
Directions:
Heat up the Peanut oil in a heavy pot or deep fat fryer to 350.
Dip the lobster pieces in the batter, covering completely.
Carefully place lobster in oil and fry 3-4 minutes, until golden brown.
Remove from fryer with tongs or a slotted spoon and rest on paper towel for 30 seconds.
Sick one end with the toothpicks and serve with Mustard dip and pickles.
Mustard Dip Ingredients & Directions:
1/2 cup whole grain Dijon
1/4 cup regular Dijon
1/4 cup mayo
2 T red wine vinegar
2 T minced tarragon
Whisk well and season with salt and pepper.
Corn Dog Batter Ingredients & Directions:
1/2 cup yellow cornmeal
1/2 cup all-purpose flour
1 teaspoon kosher salt
1/2 teaspoon baking powder
1/4 teaspoon baking soda
1/4 teaspoon cayenne pepper
3/4 cup Buttermilk
Mix all the dry ingredients first. Slowly add buttermilk until the batter comes together.
Let rest 10 minutes.