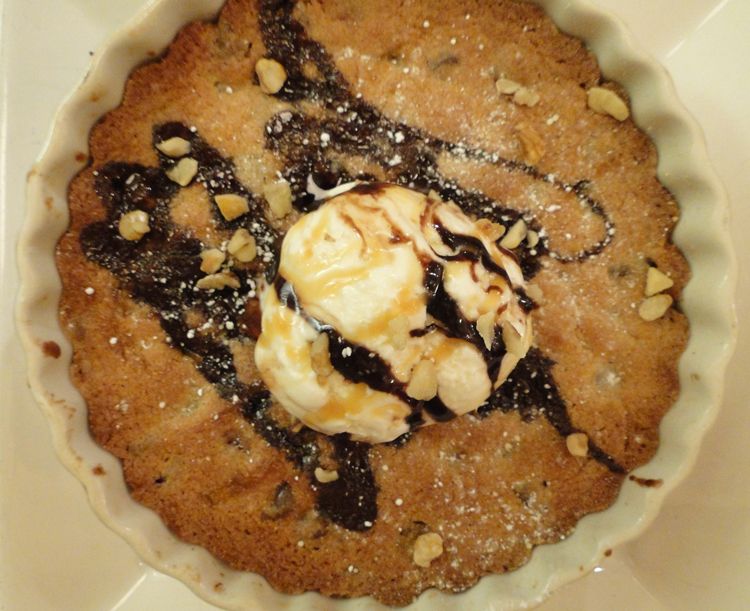 Photo Courtesy of Joe's American Bar & Grill
This deep-dish dessert recipe for a Skillet Chocolate Chip Cookie comes to us from
Joe's American Bar & Grill
. Made from scratch, served warm, and topped with vanilla ice cream with chocolate/caramel sauce and walnuts, this recipe is a decadent combination of a cookie, pancake, and ice cream sundae!
Tools:
Digital scale
Standing mixer
Paddle attachment
Rubber spatula
Yield:
Approximately 40 skillets
Ingredients:
45 oz AP flour
2 tsp Baking soda
2 lbs Butter, room temperature
16 oz Granulated sugar
28 oz Light brown sugar
4 tsp Salt
8 tsp Vanilla extract
8 Whole eggs, room temperature
48 oz Semisweet or bittersweet choc chips
Directions:
In a large mixing bowl stir together flour, baking soda and salt; set aside.
Cream butter and both sugars until light and fluffy, about 4 minutes.
Add eggs, one at a time, scraping bowl after every 2 eggs.
Stir in vanilla.
Add dry ingredients and chocolate chips all at once. Mix just until combined.
Spray skillets with pan spray. Portion 8 oz of cookie dough into each skillet. Press dough so that it covers the bottom of each skillet.
Bake at 375F convection, low fan for 10 minutes.
Let cool completely. Wrap each skillet in plastic, keep chilled until ready to use.
Bring cookies to room temperature and bake 2-3 minutes before serving.
Leftover dough may be flattened into discs & chilled or frozen until ready to use again.