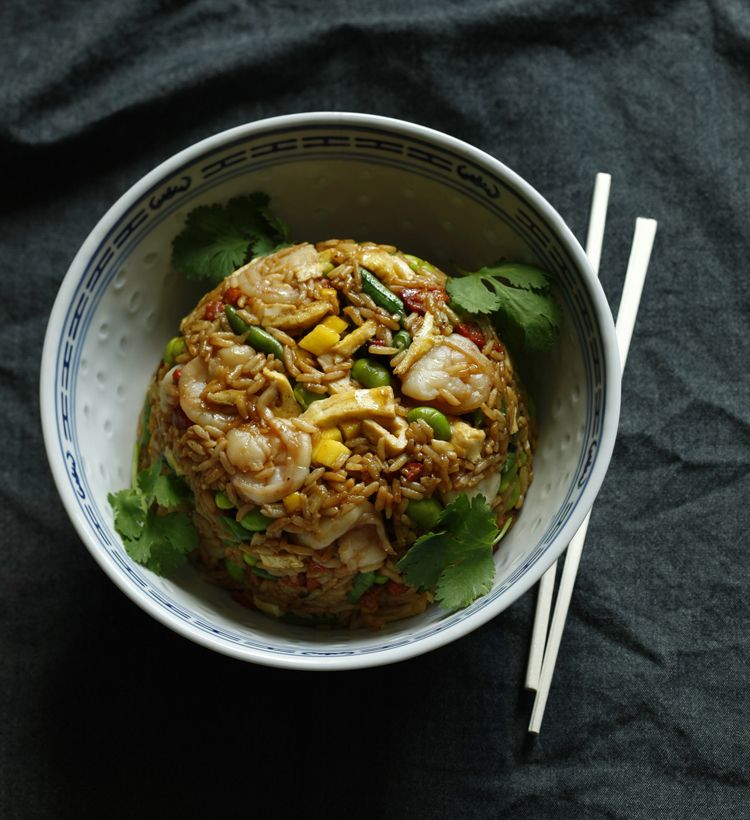 Serves:
4
Ingredients:
1/4 cup vegetable oil
1 cup peeled finely diced Spanish chorizo (about 4 oz)
3 Tbsp minced peeled fresh ginger
3 Tbsp minced garlic (8 to 10 cloves)
8 fresh large shrimp, peeled and deveined, tails removed
1/2 lb Chinese long beans, haricots verts, or green beans, cut crosswise into 1/2-inch pieces (1 cup)
1 cup shelled cooked edamame
3 1/2 cups cooked sushi rice, cold
1 1/2 cups Soy Glaze (below)
1/2 cup finely diced mango
3 or 4 scallions (white and green parts), thinly sliced on the diagonal
4 large eggs, scrambled
2 Tbsp chopped fresh cilantro
Kosher salt and freshly ground black pepper
To Prepare:
Heat the oil in a wok or a large cast-iron skillet over high heat. Add the chorizo and stir-fry until just rendered and crispy, about 2 minutes. Add the ginger, garlic, shrimp, long beans, and edamame and stir-fry until the vegetables are slightly charred at the edges, about 1 minute. Add the rice and continue stir-frying until the rice is warmed through and slightly crispy, about 2 minutes. Add the soy glaze and toss to lightly coat the rice. Transfer the rice mixture to a bowl and stir in the mango, scallion, scrambled eggs, and cilantro. Season the chaufa with salt and pepper to taste and portion into four warm bowls.
Soy Glaze Ingredients:
1 tsp vegetable oil
1 Tbsp thinly sliced peeled fresh ginger
3 Tbsp thinly sliced garlic
1 tsp crushed red pepper
2 Tbsp dry sherry
1/4 cup xiao xing wine
1/2 cup light soy sauce
1/2 cup water
2 Tbsp honey
2 Tbsp light sesame oil
To Prepare:
Heat the vegetable oil in a small saucepan over medium heat and cook the ginger and garlic until translucent, 1 to 2 minutes. Add the red pepper and cook to lightly toast, stirring often, 15 to 20 seconds. Add the dry sherry and xiao xing, bring to a simmer, and reduce by about half, about 5 minutes. Add the soy sauce and water and bring to a boil. Remove from the heat and set it aside to steep for 30 minutes. Strain the glaze through a fine-mesh sieve into a small bowl. Whisk in the honey and sesame oil. Store the soy glaze in an airtight container in the refrigerator until needed, up to 3 weeks.