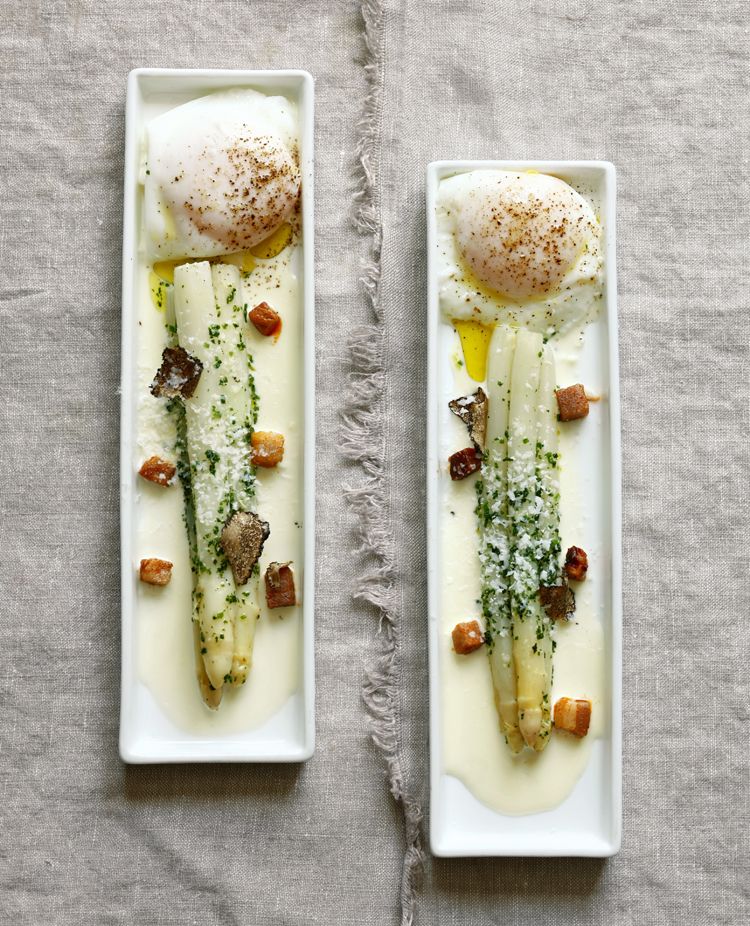 Serves:
8
Ingredients:
Parmesan Cream:
1 qt heavy cream
4 cloves Roasted Garlic (page 366 in cookbook)
1/2 lb Parmesan cheese, finely grated (about 1 1/2 cups)
Kosher salt
Eggs
8 large eggs
Distilled white vinegar
Asparagus:
4 bunches fresh white asparagus
(about 4 lbs), peeled, trimmed, and blanched
2 Tbsp extra virgin olive oil
Kosher salt
To Serve:
2 Tbsp Arbequina olive oil
Freshly ground black pepper
1/2 oz shaved fresh black truffles
2 Tbsp cooked and drained, chopped thick-cut bacon (about 4 slices)
Grated Parmesan cheese
2 Tbsp minced fresh flat-leaf parsley
Directions:
Place a rack in the middle position and preheat the oven to 450°F. Line a baking sheet with parchment paper.
To make the Parmesan cream, combine the heavy cream and roasted garlic in a small saucepan and simmer over medium heat, stirring occasionally, until reduced by half, 10 to 12 minutes (it will coat the back of a spoon). Slowly whisk in the Parmesan, stirring until the cheese is completely melted and the cream reduction thickens. Season to taste with salt, strain through a fine-mesh sieve into a clean saucepan, and keep warm until needed (or refrigerate in an airtight container for up to 2 days and gently rewarm before using).
To poach the eggs, crack an egg into a small cup or dish. Heat a few inches of water with a splash of vinegar in a saucepan. Line a large plate with paper towels. When the water is hot enough to form bubbles across the bottom of the pan but still shy of simmering, lower the heat to keep the water below the boiling point and swirl the water with a spoon to make a whirlpool. Gently slip the egg from its dish into the center of the whirlpool. Cook the egg until it is nearly set (it should barely jiggle in the center when nudged with a spoon), 3 to 4 minutes. Lift the egg out of the pan with a slotted spoon and set it on paper towels to drain. Repeat to cook the remaining 7 eggs.
To roast the asparagus, brush the spears with the extra virgin olive oil and season with salt. Roast the asparagus on the paper-lined baking sheet until the spears are warmed through and lightly caramelized, about 5 minutes.
To rewarm the poached eggs just before serving, return them to the hot (but not boiling) water for 1 minute, remove them carefully with a slotted spoon, and dry again on paper towels.
To serve, remove the asparagus from the oven, drizzle with Arbequina olive oil, and season with salt and pepper. Divide the asparagus among eight serving plates. Top with a warm poached egg and garnish with shaved black truffles, bacon, Parmesan cream, grated Parmesan, and parsley.