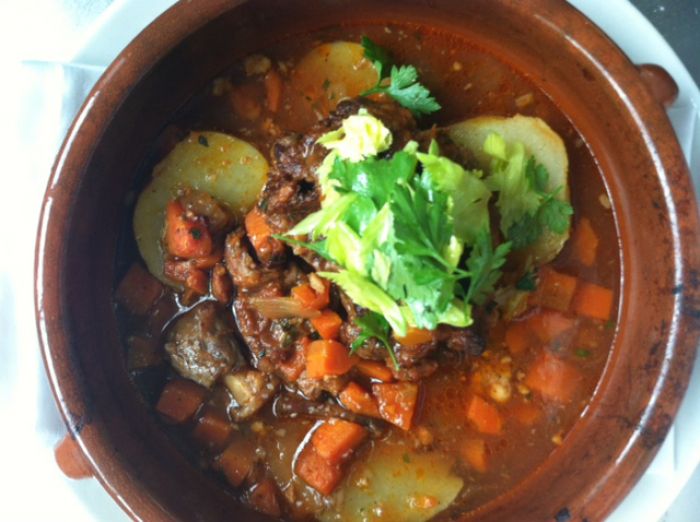 Ecco Restaurant
in Atlanta, this zesty recipe is sure to warm your heart with spicy chorizo and warm chicken broth.
Ingredients:
3 lb oxtails - cut at joint and cleaned
1 tsp salt
.5 tbls pepper
1 tbls olive oil
1/2 lb Spanish chorizo
1 large onion- small dice
3 medium carrots - small dice
6 cloves garlic - chopped
2 bay leaf
1 tbls rub/1 tbls braise smoked paprika
1 cup white wine
1 quart tomato juice
.5 cup parsley - chopped
.5 cup cilantro
3 tbls sherry vinegar
1 qt/1 qt chicken stock
Directions:
Season cut up oxtails with 1 tbls smoked paprika the day before cooking.
Season oxtails heavily with salt and pepper and brown off in oil in heavy pot. (5 minutes)
Add finely chopped chorizo with onion, carrots, garlic and bay leaf over medium heat stirring occasionally until onion is soft. (3 minutes)
Add paprika and cook for 1 miute, add wine to deglaze and bring to a boil.
Add tomato juice and 1 quart of chicken stock - liquid should come half way up the meat.
Transfer meat and sauce in covered hotel pan in a 350 degree oven for 4 hours, turning meat every 1.5 hours.
Remove small pieces after 3 hours if meat is falling from bone.
Place cooked oxtails in separate container. Skim fat from sauce and add 2 quarts chicken stock and bring to a boil in sauce pan.
Skim fat from sauce and stir in parsley, cilantro, vinegar and salt and pepper to taste.
Place meat back in sauce and allow to simmer for 10 minutes.
Plate warm oxtail and spoon sauce over top.
Garnish with small salad of yellow celery leaves, cilantro and flat leaf parsley lightly dressed with sherry vinegar and olive oil.