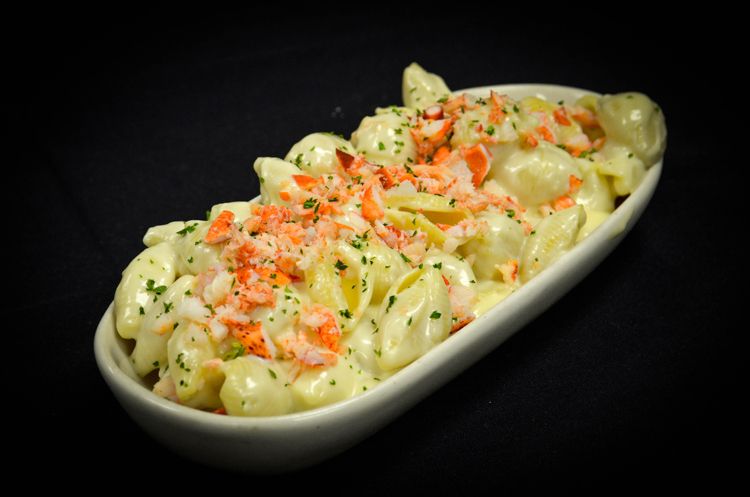 Photo Courtesy of Sullivan's Steakhouse
Macaroni and cheese is a familiar dish well-loved by adults and children alike, but this updated recipe brings succulent lobster into the mix, making it something you probably wouldn't want to waste on your five-year-old.
This recipe is courtesy of Baltimore's
Sullivan's Steakhouse
Executive Chef, Ben Erjavec. Part of the renowned Del Frisco's Restaurant Group, regulars love Sullivan's for dishes like the Cheesesteak Eggrolls, Crispy Shanghai Calamari, and the Chili Crusted Ribeye. They even have an award-winning wine list that has helped them win many awards from
Wine Spectator
. With 19 locations all over America, Sullivan's also keeps their atmosphere fun, with live music filling the air and unique cocktails keeping the patrons happy.
Ingredients:
? c Yellow Onion Small Diced
1 T Garlic Chopped
? c Sherry Wine
1 quart Heavy Cream
1 quart hot water
2 T Lobster Base
1.5 lbs Smoked Gouda Cheese – shredded
Salt and Pepper as needed
2 lbs Pasta Shells Cooked
? c Cornstarch
? c Water
1 lbs Lobster meat Chopped
1 c Parmesan Cheese Grated
Directions:
Sauté Onions and Garlic until translucent.
Deglaze with sherry wine and reduce by half.
Combine water and lobster base and add to sauce. Add Cream and bring sauce to a boil. Turn down to medium heat and simmer for 10 minutes.
Add Gouda cheese and season with salt and pepper.
Combine cornstarch and water and add to sauce slowly in order to thicken.
Place macaroni in oven safe bowl. Cover with sauce, top with lobster meat, and then Parmesan cheese. Bake in oven for 10-12 minute until crispy and brown on top.