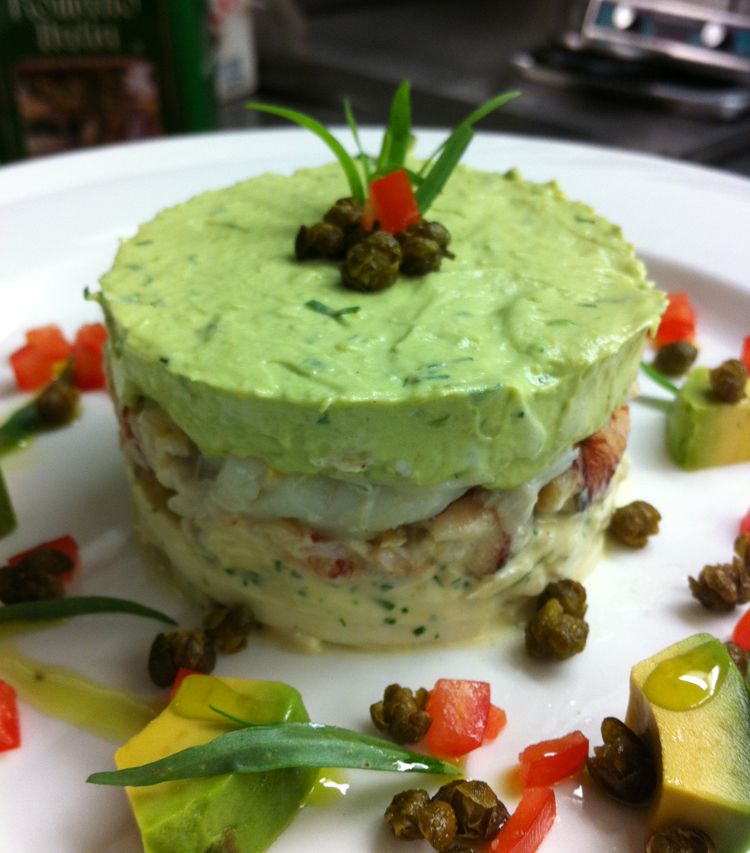 Photo Courtesy of The Little Door
We've already given you some pretty helpful tips and tricks when it comes to
cooking seafood
, so why not put that new knowledge to the test with some Dungeness crab? Thanks to
The Little Door
in Los Angeles, CA and their Executive Chef T. Nicolas Peter, you can try out the newest recipe addition to the restaurant's menu, Dungeness Crab with Celery Remoulade, and Avocado and Tarragon Mousse.
The Little Door is considered a hidden gem among the bustling streets of Los Angeles. With a charming courtyard and Mediterranean cuisine, the restaurant strives to be a place of comfort and gourmet cuisine. With four different dining areas, including the patio and winter garden, Little Door definitely has the presence to back up Chef Peter's excellent dishes. As the man behind the restaurant's opening more than 11 years ago, Peter shows off his French cooking skills by combining ingredients that are in balance with one another.
This excellent recipe combines avocado, tarragon, and lemon juice to create a creamy mousse that is sure to pair perfectly with the succulent Dungeness crab. The celery remoulade is made up of spicy Dijon mustard, celery, and parsley, which combines with the mousse and crab to create an elegant and attractive dish.
Serves:
4
Ingredients and Directions:
? pound of cooked Dungeness crab meat
1/8 cup of fried capers
For the Avocado Mousse
2 ripe medium Hass avocados smashed
? cup of whipped cr?me fraiche
1 tablespoon of finely chopped tarragon
3 teaspoon of fresh lemon juice
salt, white pepper and cayenne
Fold all ingredients and refrigerate.
For the Celery Remoulade
1 medium size celery root finely julienne
? cup of mayonnaise
2 teaspoons of fresh lemon juice
1 tablespoons of Dijon mustard
2 teaspoon of chopped parsley
salt, white pepper and cayenne
Mix all ingredients and refrigerate.
For the Plating
With the use of a Ring Mold (3" width and 2" high) Placed in Center of Plate.
Start by adding the Celery Root (? inch high), then the Crab Meat (1 inch High) and finally top with the Avocado Mousse.
Sprinkle around the Mold some finely Diced Tomatoes, Diced Avocado, Fried Capers and some Plucked Tarragon Leaves.
Gently remove the mold.
Serve.
* You may make these in advance but you need to keep them refrigerated.