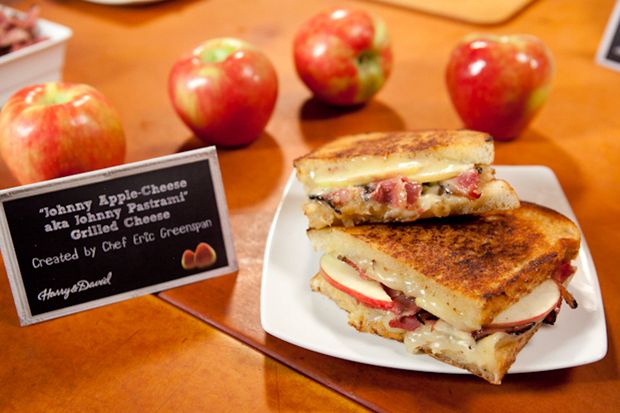 Photo Courtesy of Harry & David
There's really nothing more American than a nice grilled cheese sandwich and some apple pie. Most people probably wouldn't think to put those together but most people aren't as inventive as Chef Eric Greenspan, the executive chef and owner of
The Foundry on Melrose
in Los Angeles. In teaming up with
Harry & David
, a gourmet gift retailer, for a Seasonal Chef Program that focuses on a different fruit each month, Greenspan has created some pretty neat recipes that incorporate Honeycrisp Apples into classic dishes.
So, if you're a fan of melted cheese, pastrami, toasted bread, and crunchy apples, try out the "Johnny Apple-Cheese aka Johnny Pastrami" Grilled Cheese sandwich. It may raise some eyebrows amongst your friends but we're pretty sure we can guarantee their doubts will be proven wrong when they taste the homemade chutney and rich cheddar cheese.
Serves:
4
Ingredients:
For the Chutney:
2 TB. Honey
6 Harry & David Honey Crisp Apples, peeled, cored and diced
? C. apple cider vinegar
? C. fresh apple juice
? C. of strong Dijon mustard
For the Sandwich:
8 slices sourdough bread
1 Lbs. aged white cheddar cheese, sliced in 1 oz. slices
? Lbs. thinly sliced pastrami (from a good Jewish deli)
2 Harry & David Honey Crisp Apples, thinly sliced
? Lbs. butter
Directions:
For the Chutney:
In a medium saucepan, heat the honey until it begins to bubble and add the Harry & David Honey Crisp Apples. Cook until browned and caramelized. Deglaze with the vinegar and reduce until almost dry. Add the juice and mustard and cook until almost no liquid is left. Blend in a blender until smooth.
For the Sandwich:
Spread a tbsp. of the chutney on a slice of bread. Place 2 slices of cheese atop, then ? of the pastrami. Top with ? of the Harry & David Honey Crisp Apples slices, then 2 more slices of cheese. Place another slice of bread on top to complete the sandwich. Repeat 3 more times.
In a large cast iron skillet, melt ? the butter and heat until slightly browned. Add the sandwiches and cook until golden brown and crispy. Turn the sandwiches over, add the rest of the butter and continue to cook until both sides are golden brown, crispy, and the cheese is melted within.
To Serve:
Plate and enjoy!