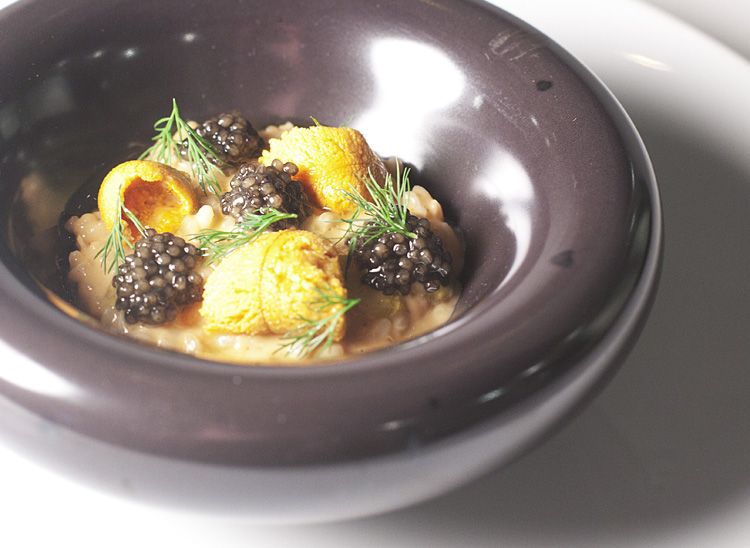 Photo Courtesy of Caviar Russe
It doesn't get much finer than caviar and if you've ever wondered how to include the luxury dish in your home cooked meals, look no further than this recipe for Sea Urchin Risotto. Sent to us from Caviar Russe, this dish is sure to impress. With risotto infused with white wine, sea urchin puree, and the added taste of decadent smoked caviar, it will be like eating at a five-star restaurant of your own making.
Back in October, Caviar Russe (an upscale caviar boutique and restaurant in New York) began a brand new seven-course Caviar Tasting Menu that features six different varieties of imported caviar. Each course is paired with at least ten grams of caviar, which is hand selected by Executive Chef Christopher Agnew. At $395 a person, the meal starts with caviar service, including the collection of Caviar Russe's Malossol caviars, and for an extra $225 per person you can expect champagne pairings.
Yields:
4
Ingredients:
500 gr. Arborio Rice
1 ea. Small White Onion Diced
2 ea. Cloves of Garlic Grated
50 cl. Olive Oil
200 cl. Dry White Wine
1,600 cl. Chicken Stock



100 cl. Sea Urchin Puree
60 gr. Butter Diced
30 cl. Olive Oil
40 gr. Grated Parmesan



12 pc. Uni
24 gr. Smoked Caviar
Picked Dill
Olive Oil
Black Peppar
Preparation:
Sweat the garlic and onion in the olive oil until translucent. Add rice and cook over medium heat for two to three minutes stirring constantly. Add white wine and continue to stir over medium heat until completely reduced and absorbed by the ride. Add chicken stock a third at a time and continue to stir over medium heat until completely absorbed by the rice.
Stir in sea urchin puree, butter and olive oil. Season with salt to taste.
Finish by stirring in grated parmesan.
Divide risotto equally between four bowls. Add uni pieces, smoked caviar and dill to complete dish.