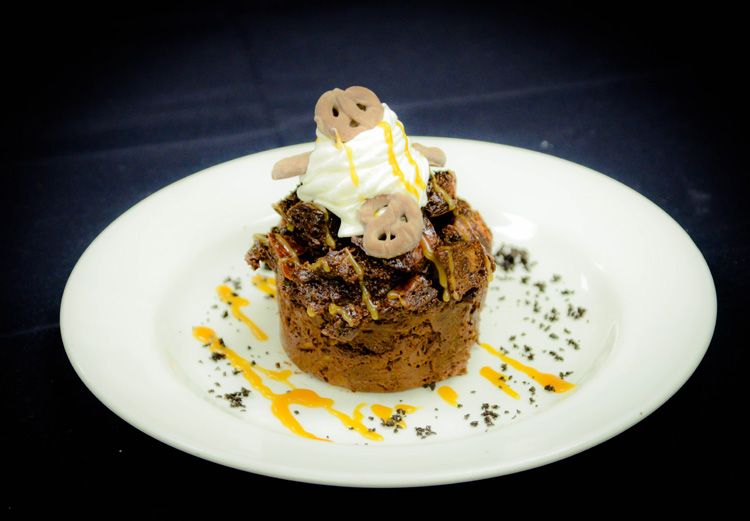 Photo Courtesy of Sullivan's Steakhouse
The salty and sweet of pretzels and chocolate go so well together, so it's no surprise that Executive Chef Ben Erjavec from Baltimore's
Sullivan's Steakhouse
has concocted a delicious dessert that uses both, Chocolate Covered Pretzel Bread Pudding. With the cold weather coming in, there's really nothing better than a nice warm dessert to end the night with and nothing really satisfies as well as melted chocolate. For your next night in try this excellent dessert that not only uses chocolate and pretzels, but also brings in some sweet cream cheese icing with pinnacle whipped vodka.
Ingredients:
4 ea Pretzel Rolls
2 oz Butter
2 t Salt
4 oz Semi-Sweet Chocolate
1 oz Frangelico
1 oz Pinnacle Whipped Vodka
1 C Half and Half
1 C Heavy Cream
4 ea Whole Eggs
Cream Cheese Icing:
1/2 lb Cream Cheese
1/4 lb Butter
1 oz Frangelico
1 oz Pinnacle Whipped Vodka
1 C Powdered Sugar
Directions:
Cut pretzel rolls into 1 inch squares. Melt butter and combine with pretzel rolls and salt. Toast in 350 degree oven for 5-7 minutes until crispy. Combine all other ingredients in a sauce pot and place over medium heat. Once fully combined, and chocolate is melted, add bread and mix well. Place into 6 individual greased baking dishes. Bake in a hot water bath for 35-45 at 350 degrees until firm. Remove from baking dish and garnish with Icing and a chocolate covered pretzel.
Icing:
Combine all ingredients and whip in mixer for 3 minutes until soft and fully combined.