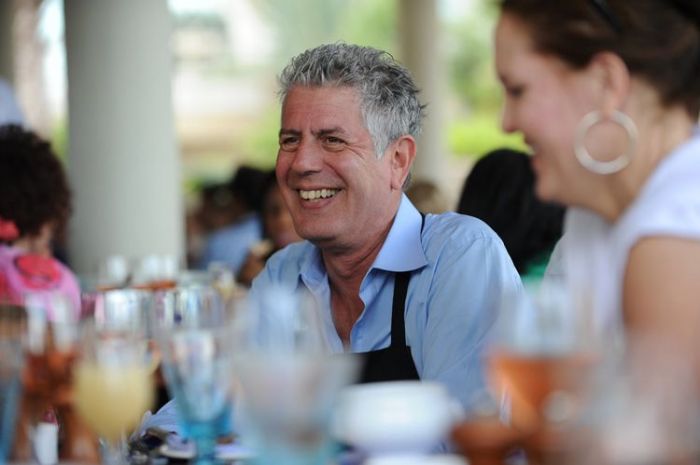 Photos Courtesy of Cayman Islands Department of Tourism
The Caribbean is filled with ingredients fresh from-the-tree and garden, along with fish caught daily right off shore. However, up until just five years ago many Cayman Island restaurants simply had key ingredients shipped in from elsewhere. On the surface, this decision may seem like lunacy; why not simply harvest what's in your backyard rather than have it shipped from around the globe? The answer is pretty simple. The more obscure island produce couldn't be farmed and sold profitably, and as a result island chefs didn't prepare many dishes featuring local bounty. Several events at the 2013
Cayman Cookout
remarkably showcased how this is changing in the area and how the star-power of
top chefs
is helping to draw in attention and support.
Dean Max Harvest Dinner at The Brasserie
It wasn't too long ago, 2010 to be exact, that
The Brasserie
in Grand Cayman's Georgetown planted their first crop of island fruits and vegetables, like soursop, bread fruit, callaloo, and akee. Now their extensive on-site organic gardens provide the bulk of ingredients used for their kitchen's caboose-style cooking.
Dean Max
and executive chef Niven Patel's
Harvest Dinner
at Cayman Cookout this year deftly showcased dishes using these staples, as well as same-day caught wahoo and snapper from the restaurant's very own fishing boats. Before gathering around the communal dining table outside, Dean Max introduced one of his fisherman who then pulled the catch of the day from the back of a pickup. Max held them up for all to see before stowing it in ice filled coolers...and then hosted a chef narrated dinner as each plate was served.
Run Down with Anthony Bourdain
"Run Down" had a dual meaning at this event. First there's the rundown of cuisine, a smorgasbord of local specialties ready for the tasting. Then there was Anthony Bourdain, microphone in hand, on the Ritz-Carlton's Great Lawn, sampling and commenting at each table featuring Cayman dishes prepared by local chefs. The food ranged from classic rum cake to conch chowder and Cayman-style Jerk to....Run Down, a locally celebrated stew. This event also offered superb opportunities for tasting Caybrew's full lineup of rum punches featuring Seven Fathoms Rum.
Restorative Rum with Bar Chef Adam Seger
Imagine a lineup of Cayman rums, like Governor's Reserve and Tortuga, with a few off island favorites, like Havana Club and Ron Zacapa. Then get Chef Adam Seger to provide a guided tasting of each one while lounging on the lush palm studded terrace of 7 Restaurant, poolside at the Ritz-Carlton. So why exactly would rum be considered restorative? The answer lies in Seger's fresh made bitters and extracts derived from tropical herbal infusions. Always taking a chef's approach at the bar, currently Nacional 27, Seger is also the guy who founded and still owns Sour Mash Bourbon Bread Company, which produces gourmet bread, biscuit and pancake mix from spent Bourbon mash.
The
2014 Cayman Cookout
takes place January 16-19 and will include chefs Anthony Bourdain, Eric Ripert, and
José Andrés
. There are many packages available with prices ranging from $899 to $2,709, as well as tickets for individual events ranging from $68 to $700.