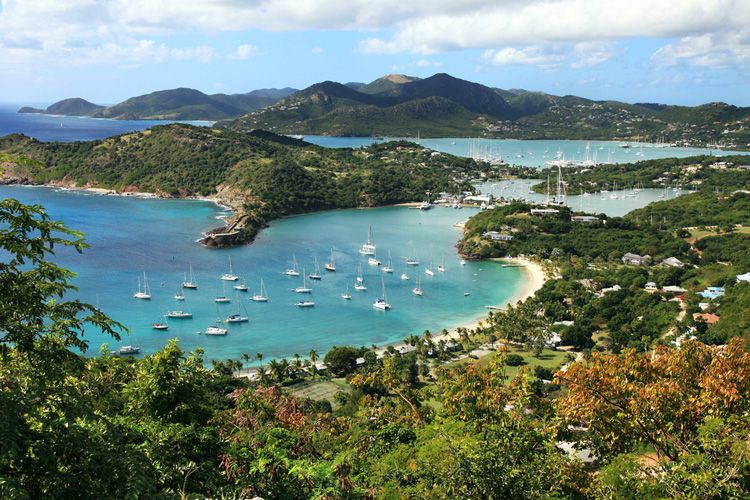 The Caribbean Islands instantly conjure up mental images of lush, tropical surroundings, crystal clear waters, and endless blue skies. Water sports abound, as do fabulous golf courses and world class tennis facilities. And what's not to like about a Caribbean Happy Hour as popularized by Tom Cruise in the movie "Cocktail"? However, often lost in all the hoopla is the fact that the Caribbean Islands are home to some of the world's most exquisite restaurants. Offering gourmet dining prepared by innovative, skilled chefs, Caribbean restaurants serve a variety of delectable foods that will surely please even the most discerning palette.

Worldly island chefs often spice up their recipes with a tantalizing fusion of African, Spanish, Indian and French-influenced cuisine. The majority of restaurants provide stunning vistas to be enjoyed while sipping your favorite wine or cocktail.
Photo Courtesy of Biras Creek Resort
Biras Creek is a 31-room, luxury
boutique resort
set among 140 pristine acres on Virgin Gorda in the British Virgin Islands. Accessible only by boat or helicopter, the property is located on a strip of land nestled between two hills and surrounded by three distinct bodies of water — the tranquil protected lagoon of the North Sound, the open Atlantic Ocean, and the turquoise Caribbean Sea. The resort has all the qualities that make for a luxurious getaway in a safe and serene environment.
Biras Creek's
Hilltop Restaurant comfortably seats 150 and features a four-course prix fixed menu — the only available dining option — at $85 per person which includes starter, main course, dessert, and cheese and port bar. The eclectic menu changes every two days and always features options for seafood, poultry, beef and vegetarian.
Photo Courtesy of Biras Creek Resort
Hilltop's Executive Chef Jermaine George expresses himself by creating new and unique dishes with a Caribbean flair. Starters include Seared Tuna with Wilted Romaine, Black Olive and Shallot Dressing followed by main course selections, such as Mahi Mahi with Spinach and Tomato Risotto or Roasted Duck Breast with Apple Whipped Potatoes and Port Wine Jus. For dessert everyone should try the Coconut Panna Cotta with Mango Sorbet.
Photo Courtesy of Biras Creek Resort
An extensive wine list will impress the wine sommelier in your group and features hundreds of aromatic and sparkling choices. From South African to Napa Valley vineyards, the Hilltop Restaurant also offers select reserve wines that have been chosen for their quality and scarcity, which are a rare treat indeed. Included in this list is a Silver Oak Cabernet Sauvignon from Napa Valley, along with a Chateau Petit Village from France.
Photo Courtesy of Four Seasons Resort
Looking for excitement off the beaten path? Nevis is one of the Caribbean's most magical islands and forms part of the inner arc of the West Indies. Its crystalline seas, golden sand beaches, historic plantation inns, sweeping mountainsides and beautiful forests entice visitors from all across the globe. Within its 36 square miles it also happens to boast two of the Caribbean Islands' most luxurious restaurants. And coincidentally, both are located in "Great Houses."
The Coral Grill Restaurant at the Four Seasons Resort
in Nevis offers a casual chic dining experience featuring splendid cuts of meat and fresh seafood that is sourced as much as possible from the local fishermen. The Coral Grill is located upstairs in the Great House which offers a commanding view of the Caribbean Sea, and includes a small interactive lounge area for drinks. The Grill seats 110 guests indoors and 34 for outdoor dining.
Photo Courtesy of Four Seasons Resort
Sumptuous appetizers include Wagyu Beef Carpaccio and Duck Ravioli. Entrees run the gamut from Roasted Vegetable Strudel with Leek, Mushroom, Spaghetti Squash, Goat Cheese and Tomato Coulis to line-caught Dorado with Orange and Thyme Couscous, Broccolini and Almonds.
A favorite is a chilled seafood platter with freshly shucked oysters, Chardonnay Poached Shrimp, Crab Legs and Ahi Tuna Tartar. Don't miss the fresh Caribbean Spiny Lobster and the Paradilla dish for sharing. The servers also surprise the kids with cotton candy for dessert, which comes in different tropical flavors.
The Four Seasons offers many different wines, including a Altocedro Malbec Reserva, Argentina, 2007, a red wine with a superb finishing taste. Oremus Tokaji Aszu 5 Puttonyos, Hungary, 2002, is a favored dessert wine which has long been considered as a precious treasure and one of the most ancient and noblest sweet wines in the world.
Photo Courtesy of Nisbet Plantation Beach Club
The intimate and relaxing
Nisbet Plantation Beach Club
is nestled in 30 lush tropical acres on Nevis. Nisbet Plantation is the Caribbean's only historic plantation inn located directly on the beach with a blend of old-world charm and the conveniences preferred by the modern-day traveler.
The beautifully restored Great House, which dates back to 1778, provides an elegant backdrop for an enjoyable evening meal. Dine indoors in the comfort of an air-conditioned restaurant (which seats 60), or al fresco under candlelight on the 30-seat screened-in veranda and enjoy the sea breezes while overlooking the resort's famous Avenue of Palms and the Atlantic Ocean. The ambiance is inviting and elegant, with crisp linens adorning plantation-style hardwood tables and attentive staff providing exceptional service.
Photo Courtesy of Nisbet Plantation Beach Club
The three-course dinner menu changes nightly, and features fresh and innovative island cuisine. A signature dish of the Great House is the Taste of Nevis entrée, which may be Grilled Mahi Mahi with Shrimp Duxelle Crust, Peas and Rice, Nisbet Virgin Salsa or Roasted Island Spiny Lobster filled with King Crab leg Ragout, Sweet Potato Casserole, and Coconut Creole Glaze.
Couples can add a dash of romance to their
luxury vacation
by reserving a table for two for a moonlit dinner on the white sand beach. The only sounds in the background are waves lapping the shore and breezes rustling the coconut palm trees. The pastry chef's recommended dessert is Nevisian Golden Apple Cheesecake with Sorrel Soursop Coulis.
Nisbet offers a Duck Pond Pinot Noir 2008 from the Willamette Valley, Oregon is an interesting selection and hails from a region known for producing highly regarded Pinot Noirs. A Black Opal Shiraz 2010, South Eastern Australia, is a carefully nurtured wine from one of the world's most important wine producing countries. A Soave Terre Palladiane 2004, Italy, is a popular white wine from arguably the most famous white-wine valley in Italy. A dry, crisp, fruity white wine, Soave's naturally refreshing appeal led it to phenomenal popularity in the second half of the 20th Century.
From the world's freshest seafood prepared by masterful chefs to wines that never fail to intrigue one's taste buds, the Caribbean Islands provides you with a culinary travel experience that will delight each of your senses and create a lifetime of memories.