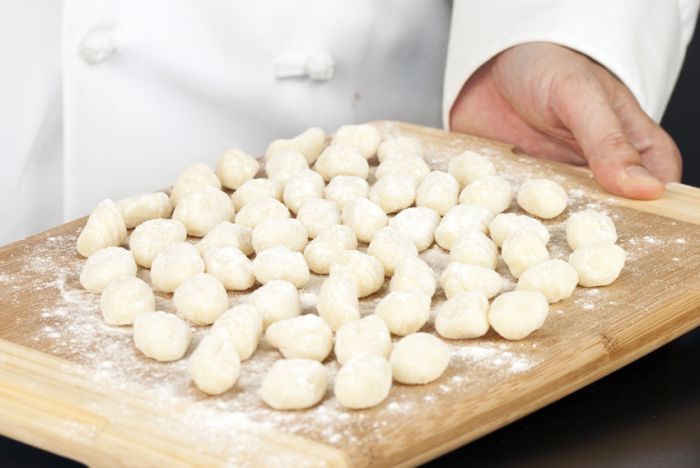 Photo Credit: David Stuart Productions/Shutterstock
There's pretty much a truffle for every season, and thankfully you still have some time to enjoy the black winter truffle. However, oftentimes people reuse the same recipe over and over, and may get a little bored shaving them over omelettes and mac-and-cheese. If that's the case, here are some inspired ways to use those luxurious morsels in the kitchen — from expert chefs at Manhattan's Casa Nonna.
Photo Courtesy of Casa Nonna
Ricotta Gnocchi
Ingredients:
Per Order:
6 ounces ricotta gnocchi
1 ½ ounces porcini purée
2 ounces porcini, sliced
½ ounce truffle purée
1 ounce white wine
¼ ounce garlic, sliced
1 ounce chicken stock
Gnocchi:
5 pounds ricotta impastata
1 ½ pounds "00" pasta flour
1 cup Panko breadcrumbs
1 cup pecorino, Grated
2 eggs
1 tablespoon olive oil
20 grams salt (about 4 teaspoons)
Directions:
In a mixing bowl fitted with the paddle, whip the ricotta for 15 minutes on medium high.
Add the pecorino and beat for five minutes. Add the eggs, olive oil and salt, and mix until well incorporated. Add the flour, mix until just incorporated (about one minute). Do not over mix.
Wrap the dough in plastic, refrigerate overnight (no less than six hours).
Photo Courtesy of Casa Nonna
Tajarin al Tartufo
Ingredients:
Per Order:
6 ounces tajarin (tagliatelle)
3 ounces truffle butter
2 ounces parmesan cheese
¼ ounce truffle salsa
Pasta:
2 pounds "00" pasta flour
2 cups egg yolks
2 tablespoons truffle oil
2 tablespoons salt
Directions:
In a mixing bowl, add the flour and salt. Add the egg yolks, then the truffle oil. Knead the dough for 20 minutes.
Wrap dough with plastic wrap, let it rest for one hour before rolling.
Photo Credit: David Milnes/Shutterstock
Chocolate Truffles With Truffle Scent
Ingredients:
4 pounds semi-sweet chocolate
3 tablespoons honey
3 cups heavy cream
2 cups melted chocolate (1 pound chocolate + ½ cup heavy cream)
1 tablespoon chopped fresh truffle
3 tablespoons truffle oil
2 cups cocoa powder
Directions:
In a saucepan, mix together heavy cream, honey and shaved truffles. Bring to a boil, set aside to steep for 15 minutes.
Melt the chocolate into the cream, whisking vigorously. Add the truffle oil, mix well. Place the chocolate in the refrigerator until firm.
Using a melon baller, scoop out the chocolate and roll into the melted chocolate (chocolate should be at room temperature, otherwise the chocolate balls will melt). Set aside until the chocolate hardens, then roll the truffles in the cocoa powder.