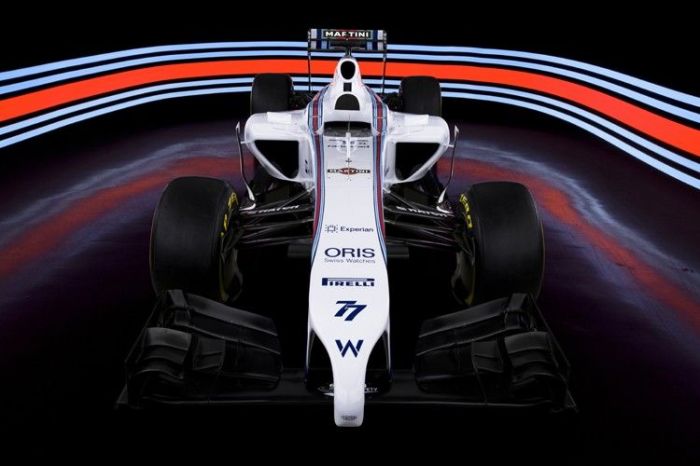 Photos Courtesy of Williams Martini Racing
The 2014 Formula 1 World Championship kicked off last weekend with the Australian Grand Prix, and with it, began a new era at the pinnacle of motor racing. The Federation Internationale de l'Automobile has instituted a new set of regulations calling for a different type of engine, and while that may be the biggest change in store for Formula 1 this season, it's not the only one. With the start of the new championship comes a new crop of cars, a new batch of drivers, and a new array of sponsors vying to attach their name to the most glamorous racing series in the world. This year, that includes Martini Racing.
The famous Italian vermouth brand has a long and proud history of supporting motor racing, with its iconic red, navy and blue stripes adorning everything from Lancia rally cars and Porsche endurance racers to offshore racing powerboats and F1. It first sponsored the now-defunct Brabham team that was run by billionaire racing guru Bernie Ecclestone before moving to Lotus and eventually to Ferrari a few years ago. But after a few years of hiatus, it's back on the grid with the Williams Grand Prix team.
"The decision to partner with Williams was a natural one for us as it provides an unparalleled opportunity for the Martini brand to connect with consumers through one of their lifestyle passions, Formula One racing," says Andy Gibson, Chief Marketing Officer for Martini's parent company Bacardi. "Martini will give consumers a taste of life in the fast lane, bringing a renewed sense of Italian style and glamour to the track and beyond."
Racing fans will know Williams as one of the most successful teams in the history of F1 racing. With nine constructors' championships to its name, it has been more successful than McLaren and Red Bull, and comes second only to Ferrari in the record books. Using engines from Ford, Honda, Renault, BMW, Toyota and now Mercedes, the Williams team has employed such notable drivers as Mario Andretti, Keke Rosberg, Nigel Mansell, Nelson Piquet, Ayrton Senna, Alain Prost, Damon Hill and Jacques Villeneuve — all world champions. But the last time it won the title was in 1997, with a solitary grand prix victory to its name in the last 10 years.
This season, however, it's back at the front of the field, and it's brought Martini Racing and its iconic livery along with it. Powered by Mercedes-Benz, it promises to make for a real contender, and it'll look damn fine doing so.
"We are thrilled to welcome Martini to the Williams family and officially launch Williams Martini Racing," says team founder and principal Sir Frank Williams. "Williams and Martini share a rich history in the world of motorsport, and the values of our two brands and our shared passion for racing make this partnership a natural fit. It will be great to see the distinctive stripes of Martini Racing return to Formula One once again in unison with Williams."