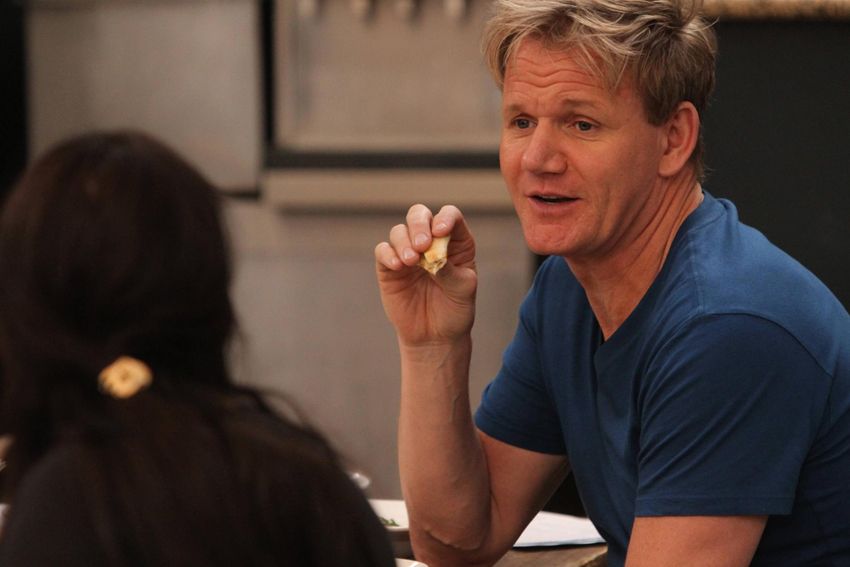 Photo Courtesy of FOX
The long-lasting popularity of food-related programs isn't looking to be dying down anytime soon, and we love that. Regardless of your style of cooking (or maybe you don't even cook at all), there's at least one show out there for you — especially if you like Gordon Ramsay's abrasive charm, because he has three of them coming back to FOX this spring. From the shows that focused on the art of preparing a meal to those that highlight the personalities behind the apron, here are some upcoming foodie shows you won't want to miss!
Photo Courtesy of Cooking Channel
Extra Virgin
Cooking Channel; Season Three Premiere April 2
Actress Debi Mazar (Goodfellas, Entourage) and her Italian husband, Gabriele Corcos, invite you into their home for the fourth season of their cooking show Extra Virgin, which focuses on their love for Tuscan food. The first episode of the new season follows Debi and Gabriele as they visit New York City sweet shops and enjoy a family bike ride over the Brooklyn Bridge before heading home to whip up some Fettuccini Brodo de Pollo.
Photo Courtesy of Food Network
Rewrapped
Food Network; Season Premiere April 21
If you are a fan of Unwrapped, you'll probably like this new competition series Rewrapped, hosted by Joey Fatone (one of the NSYNC members that's not Justin Timberlake), with Marc Summers as the head judge (the face of Unwrapped). Contestants battle it out over the course of 13 episodes where they have to recreate famous snack foods from scratch (like Twinkies, Goldfish crackers, and Spaghettios), and then use the food in an original dish.
Photo Courtesy of Food Network
America's Best Cook
Food Network; Season Premiere April 13
Hosted by Ted Allen (Chopped), the new America's Best Cook pits America's top home cooks against one another for a grand prize of $50,000. Four teams are chosen by Food Network stars Michael Symon, Alex Guarnaschelli, Cat Cora and Tyler Florence, each team leader mentoring the amateur cooks throughout the show.
Photo Courtesy of Food Network
Farmhouse Rules
Food Network; Season Two Premiere April 29
Farmhouse Rules is back with its second season, centering around Nancy Fuller, her kitchen, and the Hudson Valley farming community she's a part of. A mother of five and a grandmother of 13, Nancy uses farm-fresh ingredients to make classic meals for her family — all while running Ginsberg's Foods, a multi-million dollar business, with her husband.
Photo Courtesy of Gordon Ramsay Official Facebook
The Gordon Ramsay Trio on FOX
Kitchen Nightmares returns on April 11 for its sixth season, where Gordon Ramsay will travel across America to help struggling restaurant owners get their businesses on track. As usual, expect at least one angry blowout per episode, usually started by an upset owner who just can't handle Ramsay's rational advice.
Master Chef starts back up on May 19 with season four. Ramsay, restaurateur Joe Bastianich, and Chef Graham Elliot will challenge a new group of contestants as they try to cook their way to the top. And lastly, Hotel Hell comes back July 21 for its second season and is still in the casting stage. If you're a hotel, inn or resort owner who wants Ramsay to help your business, fill out an application and cross your fingers.