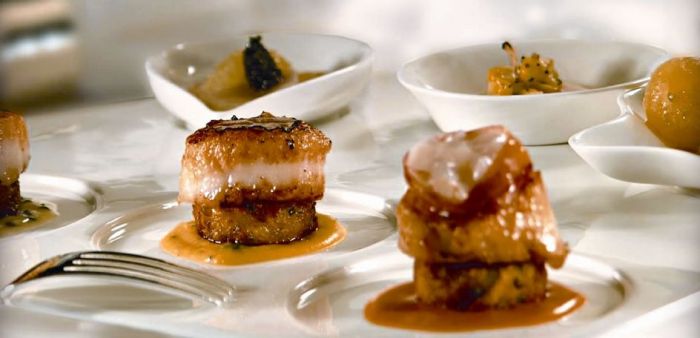 Photos Courtesy of MGM Resorts International
We really can't get enough of exclusive dinners with our favorite chefs because there's really no better way to get an up-close and personal peek at how they do what they do. Plus, it gives you bragging rights for years. Renowned chef Michael Mina is hosting another exclusive wine dinner, but this time it's at his restaurant in Bellagio, Las Vegas. The event is being held on Wednesday, August 20 at 7 p.m. and we can't wait.
Bellagio Resort & Casino is partnering up with Huneeus Vintners (which includes Quintessa, Flowers Vineyard & Winery and Faust wineries) for this special one-night event, bringing along Jason Smith (Bellagio Director of Wine and Master Sommelier) and Larry Stone (Master Sommelier and Huneeus Estate Director).
Mina's six-course pairing menu, which he crafted with the help of his restaurant's Executive Chef Ben Jenkins, includes:
Chef's Selection of Canapes: paired with Illumination Sauvignon Blanc
White Asparagus: complemented with king salmon and Osetra caviar; paired with Flowers Chardonnay
Hudson Valley Foie Gras: seasoned with lavender and plum; paired with Flowers Pinot Noir
Roasted California Squab: served with heirloom beets and blackberry jus; paired with Neyen Blend
Snake River Farms New York Strip: flavored with lobster mushroom and sesame; paired with Quintessa 2010
Crottin de Chavignol: served with black mission fig and hazelnut; paired with Faust Cabernet Sauvignon
Tickets cost $195 per person and you must be at least 21-years-old to attend. To make a reservation, call (702) 693-7075 or visit the Bellagio's Concierge.