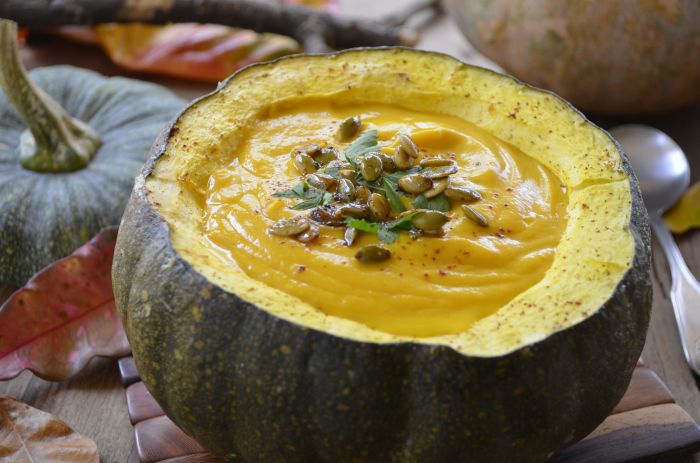 Photo Credit: Vegan Fusion
With Halloween over with, you need to put those extra pumpkins to good use by cooking with them. Instead of baking pie, which will only make you feel guilty, make some Curried Pumpkin Soup instead. Creamy and spicy, this fall-themed dish is served in an ornamental pumpkin (or a bowl if you aren't trying to impress anyone) and is topped with candied pepitas. Even better is that this recipe comes to us from the Vegan Fusion Academy in Miami, making it a pretty guilt-free dinner option.
For a Mexican-themed soup, you can replace the pumpkin with any squash, such as butternut, acorn or buttercup. Then replace the curry powder with two teaspoons of chili powder and a 1/2 teaspoon of chipotle chili powder.
Curried Pumpkin Soup
Yields: 6-8 servings
Ingredients:
5 cups vegetable stock or water
1 1/4 cup diced yellow onion
3/4 cup diced celery
1/2 teaspoon seeded and diced hot chili pepper
4 large garlic cloves
4 cups pumpkin; 1/2 inch chop
1 1/2 teaspoons curry powder
1/2 teaspoon ground cumin (try toasting)
2 teaspoons sea salt, or to taste
1/4 teaspoon ground black pepper
1 1/2 cups soy creamer, coconut milk, soy or rice milk, or almond milk
2 tablespoons finely chopped cilantro
Directions:
Place the vegetable stock in a three quart pot over high heat. Add all of the ingredients except the soy creamer and cilantro, and cook until the pumpkin is soft (approximately 15 minutes), stirring occasionally.
Add the soy creamer, carefully transfer to a blender and blend until creamy. Return to the pot, add the cilantro and cook for five minutes over medium-low heat, stirring occasionally.