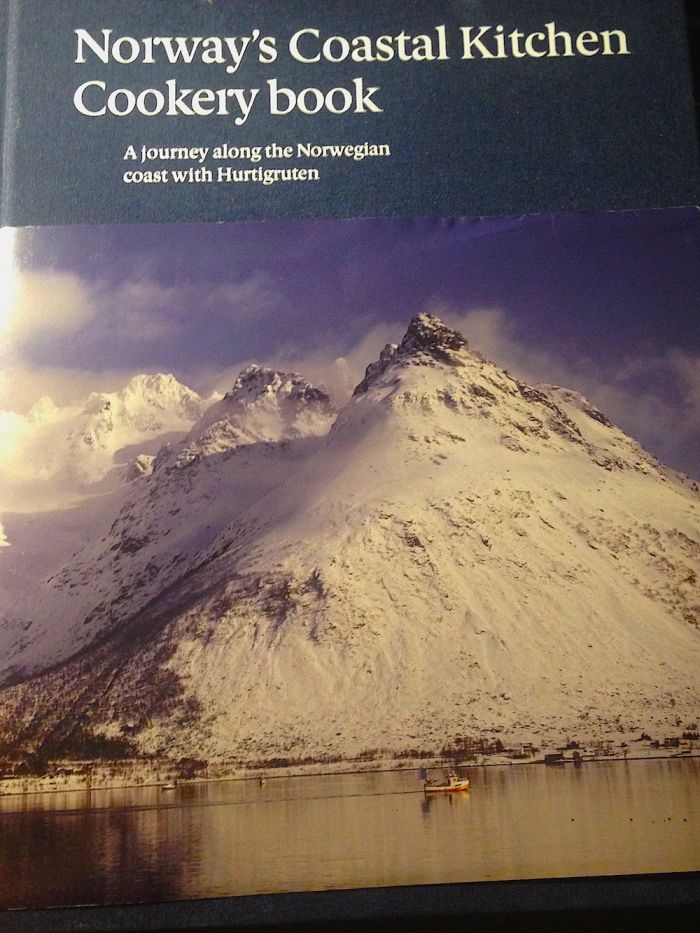 Hurtigruten
As days pass, the name Hurtigruten is becoming well-known in the adventure cruise dimension. For those who have a sense of history, adventure, and deep curiosity, Hurtigruten is a substantial cruise option, due to its deep-rooted Norwegian seafaring identity combined with its unique destinations.
Hurtigruten is deeply associated with Norwegian history, as it was founded in 1893 as a company originally called Norwegian Coastal Voyage. Ships sailed from Tromso to Hammerfest, two ports in northern Arctic Norway, carrying mail, cargo, and passengers. Today Hurtigruten has eleven ships, and travels the Norwegian coast, stopping at 34 ports of call, from Bergen to Kirkenes and back. It also travels to Antarctica, the Svalbards, and is planning more diverse routes for future sailings.
All the ports of call having unique histories, all being part of the unique Norway cultural mosaic.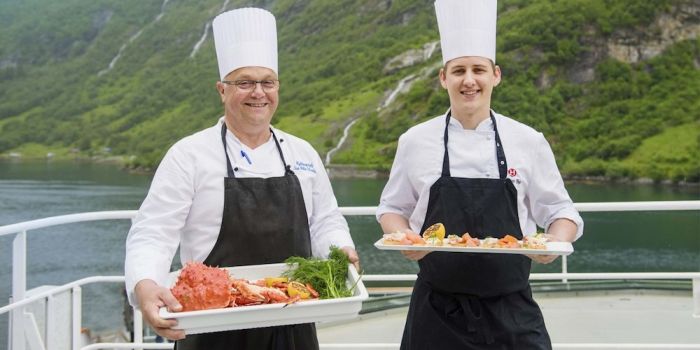 Hurtigruten
Much of Hurtigruten's seafaring identity lies in its unique cuisine, so Hurtigruten recently released a large, coffee-table sized, cookbook, entitled Norway's Coastal Kitchen Cookery Book: A Journey Along The Norwegian Coast With Hurtigruten. It is unique in that it is more than a simple collection of traditional recipes compiled by the cruise line's team of chefs.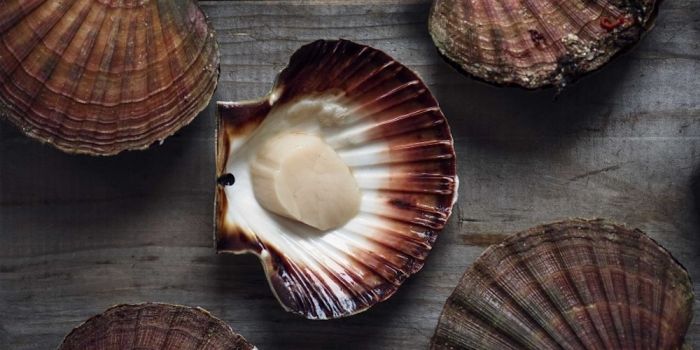 Hurtigruten
Behind all the local products – cod, scallops, prawns, cheese, meats, bread, Arctic berries, are intriguing stories about life along Norway's coastline, discussed by the local purveyors and artisans who provide these products for Hurtigruten. The artisans also share their insights and recipes from their daily kitchen tasks, that move through the places Hurtigruten visits.
After reading the cookbook, over 150 pages long, I began to understand the relationship between this cruise line's approach to food, which was certainly on the spectrum of the New Nordic Cuisine ideas. These were conceptualized a few years ago by Scandinavian chefs, who looked at the natural Nordic environment, studied old recipes and talked with elders old enough to remember when food wasn't shrink-wrapped and flown in from other areas of the world.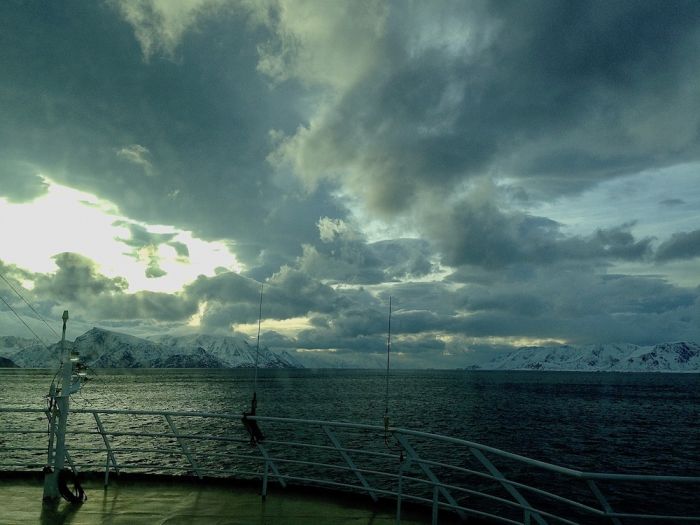 Susan Kime
They wondered why such a large relatively unspoiled area, blessed with rich soil; a temperate climate and wild seas could not provide more Norwegian variety and purity to the menus. Hurtigruten borrowed these ideas, and in this cookbook, especially, used many of these Norwegian culinary tenets of simplicity, purity and freshness to create the multiple coastal cruise menus.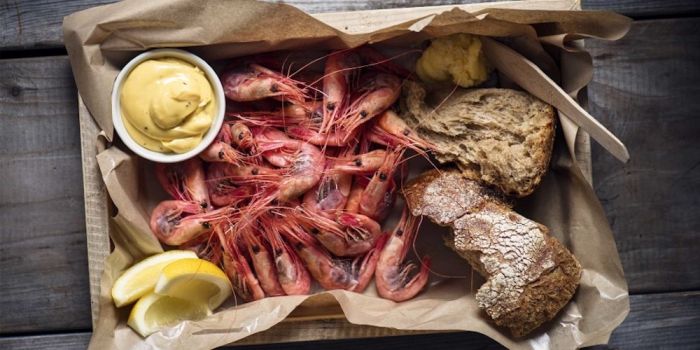 Hurtigruten
Hurtigruten cuisine are prepared simply with flavors in a "slow food" philosophy, combining ancient Nordic cooking traditions s with a touch of modernity. In tune with eco-sensitivity and sustainability, this cookbook of the Nordic spirit is respectful of the environment as the artisans and food purveyors consistently reflect in their stories and recipes.
In the book are stories about catching Norwegian Arctic Cod, what the authors of this book calls "the original mariner" as it travels great distances across the North Atlantic, and can be served in many ways. This cookbook provides recipes loved by one cod fisherman himself: Steinar's recipe: " white sauce, fresh vegetables, a lot of herbs, fresh cod fillets in a skillet and there you have it!"
But, there are more formal cod recipes as well: Cod with julienne root vegetables, butter sauce and salmon roe; Bacalao, Clipfish stew, and others.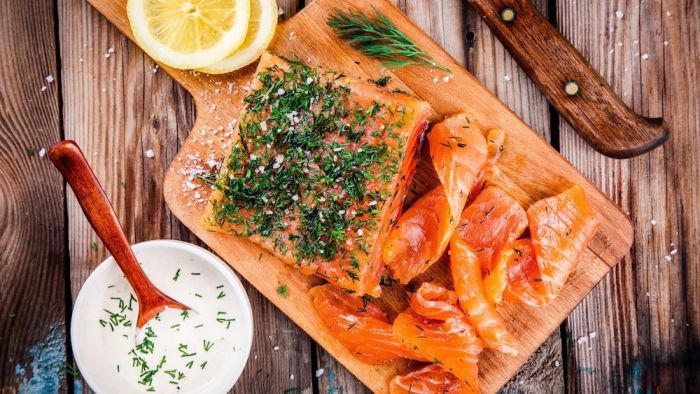 Hurtigruten
One of the more enticing parts of the book discusses an artisanal herbal gardener named Judith, who lives on the Lofoten Islands, an archipelago off the coast of Western Norway. She grows mint, dill, fennel, Victory onion (a wild, green onion) Russian tarragon, hyssop, and other herbs. The Cookery book interviews her and provides recipes, one of which is Gravlax, salmon with fresh dill as a topping.
And then, as an opposite, is the story of Neil, a Helgeland coast (south of the Arctic Circle) Scallop diver, who, on a good day can catch up to 500 kilos ( over 1000 pounds) of Scallops. His favorite recipe, also quite intuitive, no ½ teaspoon of this, or ¼ cup of that, is also cited:
"Three sliced scallops per person. One scallop in each shell. A little salt, a clove of garlic, crushed, a little butter and a slug of cream in each of the shells. Cover with sliced mushrooms, small chunks of white bread, and sliced tomatoes. Top it off with a good layer of cheese, Cook in over ay 200 degrees or on coals until the contents of the shells are cooked."
Many other artisans are profiled, with their favorite recipes. They include cheese and bread makers, Shrimp catchers, Reindeer hunters, and those who have created Arctic Beer named Mack. This original brewery is in Tromso, was founded by Adolphus Mack in 1877, and still is brewing.
Finally, desserts in this cookery book are made from cloudberries, buckthorn, and quince – to name a few.
If there is an underlying moral to this cookbook, a lesson to be taken away from those who read and ponder its cultural subtext, is this: even the most mundane rituals deserve attention. To cook is to insist that every hunger is a potential occasion, not just for creating something delicious but for that quality of cultural experience that comes when the flame has moved to high, butter is being browned into a sauce. Tough meat, like Reindeer, is finally tender and there's parsley, potatoes, Juniper berries and carrots to be included in the Nordic melange. The Nordic food experience is indeed oxymoronic: fleeting, yet memorable. The food is eaten, but the memory of taste remains.
Virginia Woolf was correct when she said, "Of such moments the thing is made that endures." This cookbook reflects the Nordic cuisine soul, so often tasted on exceptional Hurtigruten cruises. It tells the tale of those who create the enduring taste memory, that which also endures.
Hurtigruten
Cheese from artsianel cheese producers in Norway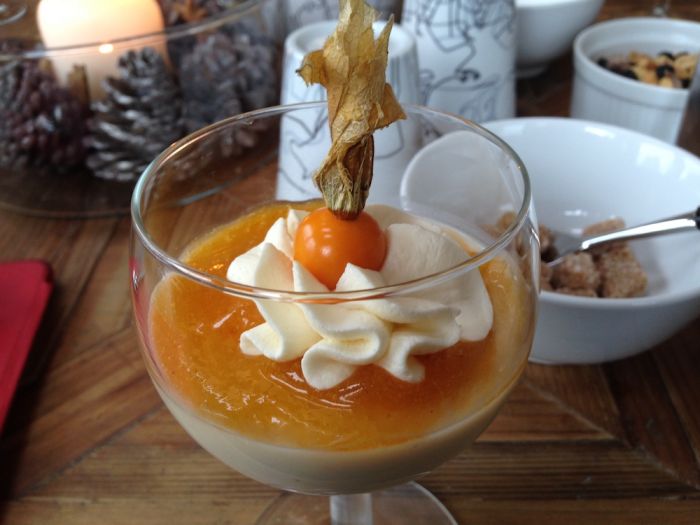 Susan Kime
Sea Buckthorn and Cloudberry Dessert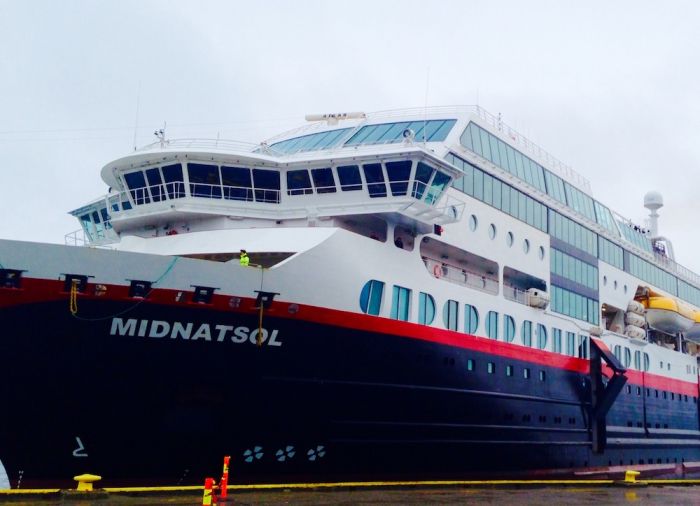 Susan Kime
Hurtigruten Cruise Ship, Midnatsol