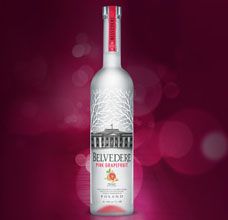 Food & Spirits: Belvedere has just announced the latest addition to its line of super premium macerated vodkas: Belvedere Pink Grapefruit.

Described as being the most versatile flavor in its category, Belvedere pink grapefruit is distilled using whole pink grapefruits combined with fresh ginger and Spanish spring lemons and contains no artificial additives. Other Belvedere maceration vodkas include Citrus, Orange and Black Raspberry.

Belvedere Pink Grapefruit is available beginning this month in top restaurants, bars and wine and spirits stores.

Claire Smith, Belvedere Vodka's Head of Spirit Creation and Mixology has created new Belvedere Pink Grapefruit cocktail recipes that can be enjoyed on their own or as the perfect pairings with Pan-Asian and Mediterranean cuisine.

"Belvedere Pink Grapefruit represents a first for Belvedere; maceration of the whole fruit has delivered an impressive hit of succulent, ripe grapefruits," says Smith, "This combined with exotic ginger and sweet and uplifting spring lemons creates a truly refreshing vodka that is the perfect base for a variety of cocktails and yet just as a delicious served chilled, neat or over ice."




Belvedere Pink Twinkle

50ml/2 oz Belvedere Pink Grapefruit
15ml/ ¼ oz St Germain elderflower liqueur
25ml/ ¾ oz Moet
Shake first 2 ingredients and pour into a chilled martini glass.
Top with Moet. Garnish with a lemon twist.