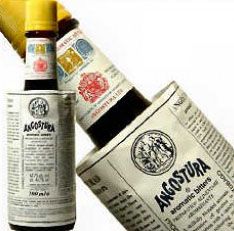 Food & Spirits:
Bitters is a 19th century concoction coming back in a big way. While many manufacturers are beginning production of the newest craft
cocktail
craze, others have been making the stuff for years, including favorite brand Angostura.
In 1824, Dr. J.G.B Siegart, a Surgeon General in Simon Bolivar's Venezuelan army, created the "secret" blend of herbs and spices in
Angostura
. Originally meant to be an elixir for wounded soldiers, Angostura Bitters has since gained international acclaim in both cocktails and cuisine, playing a key role in recipes for savory sauces, cakes, vegetables, meats and cocktails.
Angostura is quickly becoming a key ingredient in every cocktail imaginable from classic to cutting edge.

Try this easy to make concoction for a taste of the legendary elixir.

The Perfect LLB (Lemon, Lime and Bitters)
1. Rim the inside of a glass with 5-6 dashes of Angostura aromatic bitters

2. Add ice and swirl until the glass is evenly coated with Angostura aromatic bitters

3. Fill glass with lemonade or Sprite and a shot (15 ml) of lime cordial or fresh lime juice. For a low-cal version fill glass with soda

4. Garnish with a slice of lemon or lime