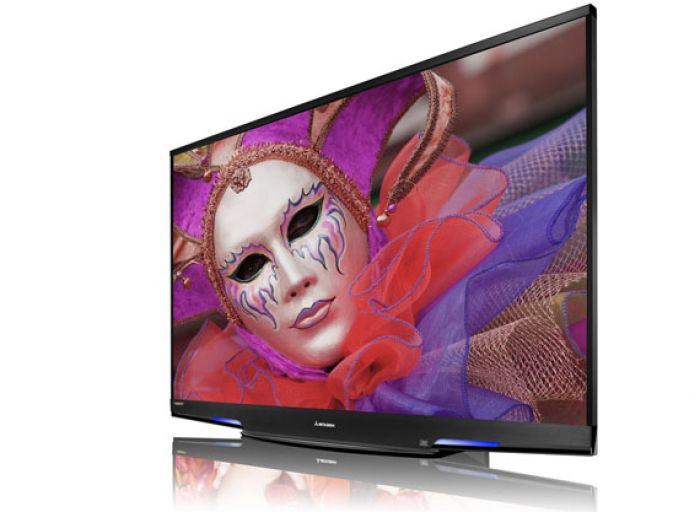 Luxury Electronics:
Mitsubishi Digital Electric America Inc. recently rolled out a new line of
televisions
: the Unisen Immersive Sound LED, the 3D DLP Home Cinema, and the LaserVue. All three models have surpassed any prior expectations, paving the way to a home theater future full of superior imaging and audio.
LaserVue TV ($5,999)
Mitsubishi's
LaserVue Televisions
bring unprecedented standards for televisions 60-inches and larger. The 75-inch television offers superior and unprecedented cinema color quality although it operates on just 128 watts, making it significantly more energy efficient than of televisions of similar size.
This television also has a Stream TV Internet Media feature, which gives viewers the ability to access to social media content and entertainment options, including: Facebook, Twitter, The New York Times, Pandora, Flickr, Picasa and Vudu movies and more.

Unisen Immersive Sound LED TVs ($1,799 to $3,499)


Mitsubishi's Unisen Immersive Sound LED Televisions are the only flat panel TV's with multi-speaker Dolby Digital 5.1 channel surround sound designed right into the television itself. This bigger 55-inch television supercedes the 52-inch model from last year. The unit comes with 12, 16 or 18 speakers ranging from 40 to 55 inches. The speakers allow the television to combine advanced sound with superior imaging, without the hassle of multiple separate surround sound speakers.

Key features of Mitsubishi's Unisen Immersive Sound LED Televisions include integrated wireless Internet; Bluetooth audio streaming allowing the viewer to listen to music from their telephones; and Stream TV.

3D DLP Home Cinema TVs ($1,199 to $4,499)


Mitsubishi has offered 3D televisions since 2007, but with the growing trend of 3D cinema, the quality of its new 3D DLP Home Cinema Televisions has grown significantly. As with most of Mitsubishi's televisions, the images delivered with the 3D DLP Home Cinema TV are incredibly vibrant and realistic.

With the same DLP technology used in most 3D theaters, this TV offers rendering speeds 1,000 times faster than normal LCD technology and is available with 60, 65, 73 and 82-inch screens. As with the other two unprecedented Mitsubishi models, the 3D DLP Home Cinema includes superior StreamTV Internet Media and Immersive Sound Technology.

Learn more online at www.mitsubishi-tv.com.

Merilee Kern is JustLuxé.com's "The Luxe List" Executive Review Editor. She scours the luxury marketplace for new and captivating product, service and travel "musts." Submissions are accepted via e-mail at Merilee@JustLuxe.com. View all of Merilee's Luxe List articles from here (scroll to page bottom) and follower her on Twitter here: twitter.com/LuxeListEditor.



LaserVue TV

LaserVue TV

3D DLP Home Cinema TV

Unisen Immersive Sound LED TV