Fujifilm FinePix X100 Camera
Mar. 15th, 2011 | Comments 1 | Make a Comment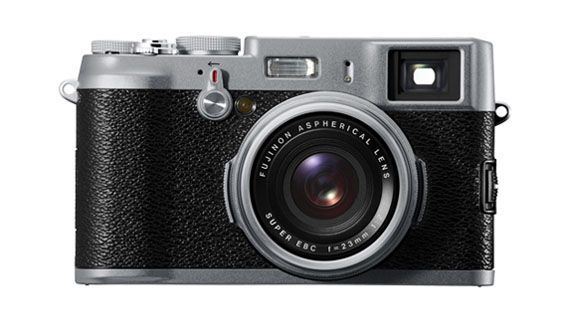 Photo Courtesy of Fujifilm
There were rumors going around for months about Fuji's new X100 camera. For quite some time all we had were a few brief product shots from a "microsite" designed to do exactly what it did - create a buzz.
The X100 is a DSLR-grade APS-C camera, running at 12 megapixels and sporting a 23mm F/2 prime lens. The back of the camera is a 480x320 LCD and the viewfinder is a strange combination of a EVF and regular optical view.

What makes this worth your time versus say a Leica? Well, Fujifilm has managed to make the sensor the exactly perfect size for the lens. This means that you're going to be able to squeeze out an astounding ISO range out of a fairly small product. Listen, the numbers really don't matter (it's 200-6400); the important thing is the F/2 lens. That means you'll be able to shoot in almost complete darkness and still get an clear picture. Oh, and it'll shoot in 720p HD video as well.

Add the retro styling and you've got one incredibly hot camera. For my dollar, it'll run up against anything Leica is offering and it just looks so damn sexy. The body is made of metal and the black portion of the camera is "leather-like." Keep your eyes open for special editions that are clad in leather and have other goodies; just call it a hunch.

It's been announced by Fuji as being priced at $1,200, which isn't the bad news - it turns out that Fuji hasn't been able to keep production up with demand (it's been out since the beginning of March) and as a result you're not going to be able to get one for a while. Be patient though, I suspect it'll be worth it for one amazing little camera that just happens to check all the right boxes when it comes to appearance.

Visit www.fujifilm.com to learn more.