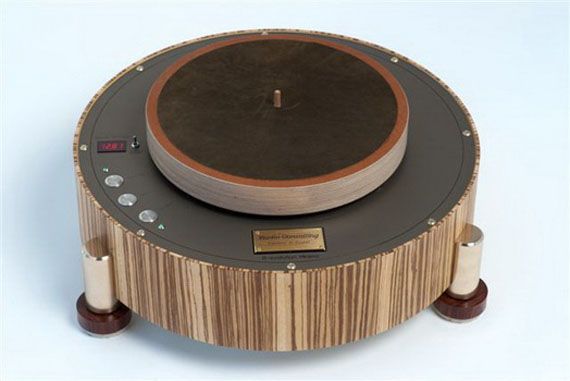 Photo Courtesy of Audio Consulting
There are individuals out there who take their audio very, very, seriously. For them, nothing but the absolute
finest in audio
reproduction will do, and don't you dare whisper the word CD around them. These are the people who will buy products like the R-evolution Minima.
The Minima is the entry-level version of Audio Consulting's R-evolution Stealth, but make no mistake - this is an amazing product. The Minima uses a direct drive system to turn a leather mat on a wooden platter, just to make sure that there is no impedance from a belt or other unnecessary moving parts.
The chassis for the turntable itself it made from wood, with the axle/shaft assembly being constructed from high-tech steel, bronze and ceramics to ensure the lights strongest combination possible. Even more impressive is the fact that the drive motor consumes less than two watts of power during operation, which is needed because the entire unit is powered by batteries - just to make sure there is no audio interference coming in from an electrical outlet.
How much for this particular slice of audio engineering heaven? Well, they can be difficult to find, but if you can locate one expect to spend somewhere in the neighborhood of $27,265 U.S. for it. Small price to pay to hear "Holy Diver" as it was intended, if you ask me.
The new R-evolution Minima turntable features:
Direct drive motor; less than two watts of power consumption during operation
Axe/shaft assembly weights eight Kg (without platter) and is made using high-tech steel, bronze and ceramics
Battery powered
Wooden platter
Leather mat
Wooden chassis for optimum vibration behavior
Natural oil treatment of wooden case
Turntable mat by Jean Hiraga
Price: $27,265.34