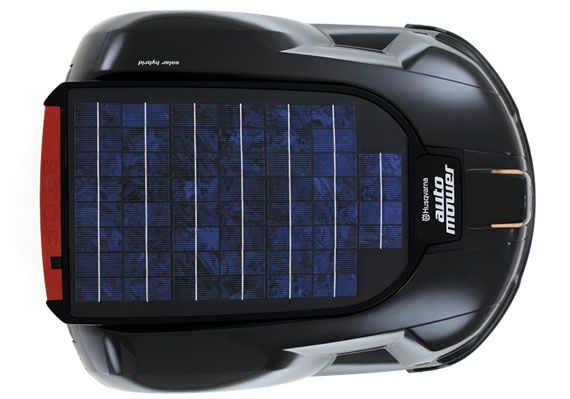 Photo Courtesy of Husqvarna
Home robotics have come a long way in the last 10 years. First, there were the housekeeping versions that clean your hardwood floors. Then they came out with
gadgets
to vacuum your carpets and clean your gutters. What's next? Well, it looks like someone has come out with a robot to mow your lawn for you. The neighborhood kids will be crushed.
What makes the Husqvarna Automower special is not just that it'll take care of your yard automatically, but that it does so using solar power. Husqvarna has several robotic mowers already, but the Automower Solar Hybrid is special in the fact that it will charge via the traditional charging station or from the solar panel built into the top. This means that if you live in an area that receives a large amount of sunlight, you'll have fewer delays between trims.
Now, all three models of the Husqvarna Automower have some common features like automatic charging, an anti-theft alarm, and being able to work in up to a 35 percent incline. The Automower Hybrid is unique because it has that solar panel to help it run longer before it needs to recharge. Husqvarna also added the ability to send a text message when it is done with its task, so you'll know when its time to go admire your lawn.
There are currently three different models available from Husqvarna, the Automower 230 ACX for $2,699.95, which covers about 0.75 acres between charges (about 3,000 square meters); the Automower 220 AC for $2,399.95, which will mow about 0.5 acres between charges (about 1,800 square meters); and then finally the
Automower Solar Hybrid
for $2999.95, which keeps about 0.6 acres trimmed (about 2,200 square meters).
While none of these options are particularly cheap, they will keep your lawn looking it's best between the weekly visits from the landscapers; and an electric mower that runs by itself is just
cool
.