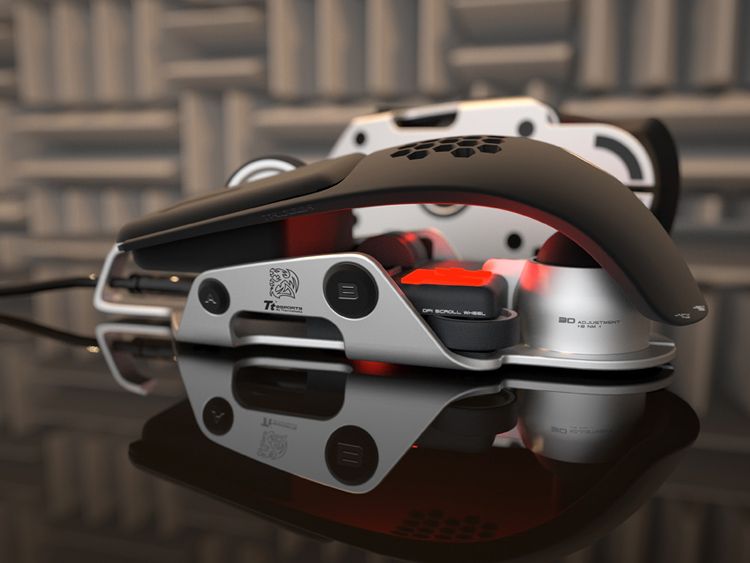 Photo Courtesy of BMW DesignworksUSA
You don't have to wish that concept gaming mouse that you've been drooling over was real anymore because the luxury gadget is finally here. The BMW gaming mouse has moved from concept clicker into the real world. Even better, the collaboration between Thermaltake and BMW looks as technologically advanced as it is, like some kind of superfast, superauto from Tron. However, unlike the cars in Tron, you actually get to play with this one.
The Level 10 M Mouse was first introduced in January and it's finally available. What is known about the Level 10 M Mouse?
The Level 10 M Mouse is created jointly with BMW's design consultancy, DesignworksUSA, and more gaming gadgets from the collaboration are also due to arrive.
Sweaty palms have been taken into consideration, as the design features a cool perforated look that is more about function than resembling a sports jersey. No sweat, no interruption in your ability to get your game on.
The mouse features five programmable keys and a Z-key that'll change your gaming profile as you go. So you can become whoever you want to be at the touch of a button.
The Level 10 M Mouse is equipped with 8200 DPI, adjustable from 800, 1600, 3200 to 5000 (default setting), and customizable by software application up to 8200 DPI.
The Level 10 M Mouse can be found at most major retailer stores and online stores in the US, Europe and Asia for around $100.
The mouse is on a double-decker axis for super flexibility and maximum enjoyment.
Olivia Wilde not included.
For more information visit
ThermaltakeUSA.com
Photo Courtesy of Thermaltake