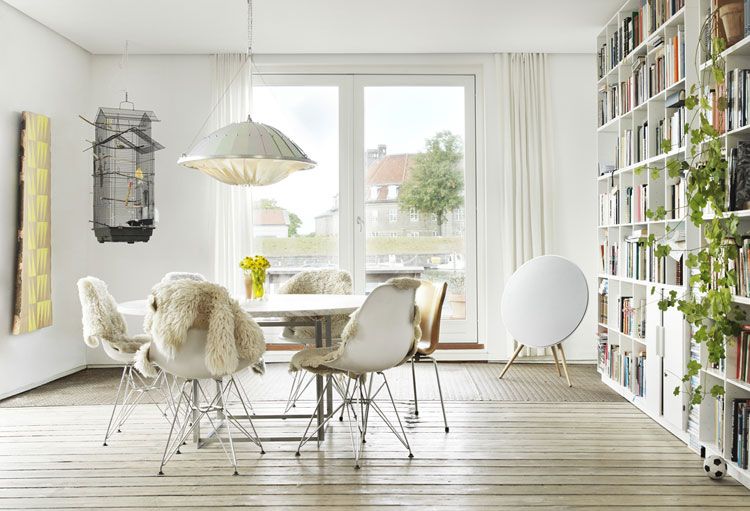 Photo Courtesy of Bang & Olufsen
Depending on how much is left in the old trust fund, the
Bang & Olufsen's BeoPlay A9
may be the perfect speaker for you. Manufactured for its sub-brand B&O Play, the A9 delivers outstanding sound at a slightly lower price range than
luxury electronics
mother company Bang & Olufsen. The new speaker combines premier audio technology and innovative design in an effort to appeal to younger buyers. Crafted to look like a modern piece of art or furniture, the A9 can blend easily into home décor or can be featured alone for maximum attention.
You may or may not like the speaker's minimal look, with many reviewers describing it as a mini satellite dish, but it's definitely more versatile than most speakers on the market. The A9 units are housed in a component that is circular in design and rests on tripod legs. With a diameter of roughly three feet, the fabric covering can be changed to any of six colors - red, green, brown, black, white, or silver. The legs (oak, beech, or teak) can be screwed in for a standing position or removed so that the speaker can be hung from the wall or ceiling. In tune with its progressive design, the speaker is controlled by touch sensors and has no buttons. Using a sensor strip, volume can be adjusted or muted by a simple hand swipe.
Music is played wirelessly of course from an iPod, iPhone, or Android using Airplay or DLNA streaming technology. Control functions can also be accessed through a B&O app. Not everyone keeps their wireless devices perfectly in sync so the A9 does have a hidden Line In and Ethernet component, as well as a USB port for docking and charging.
For audiophiles, the A9 features advanced technology pioneered by its parent company,
Bang & Olufsen
. The speaker's sound is delivered by two ?-inch tweeters and two 3-inch mid-range units all powered by individual 80-watt class D amps. An 8-inch bass unit (woofer) is powered by its own 160 watts. It also has a fine tuned DSP (Digital Sound Processor) algorithm with patented Adaptive Bass Linearization Technology, whatever that means. Overall, the A9 apparently pumps out high-quality sound with a total of 480 watts.
Depending on where you place the A9, there are three available preset sound modes – wall, corner, and freestanding - to save you the hassle of changing the equalization filters every time.
Digitaltrends.com
says in an intimate setting the speaker delivers 'full and ubiquitous' sound.
With no unnecessary parts, the A9 definitely stands apart from more traditional, boxier units. Its young designer, ?ivind Slaatto, is a music lover and wanted the speaker to have a clean and natural look. It will appeal to a customer who wants not only great sound, but who is also concerned with the visual noise a speaker can bring. Henrik Taudorf Lorensen, VP at B&O PLAY, says the BeoPlay A9 is a 'liberating take on acoustic performance with a cleanly graphic look that is intuitively easy to use."
Premier electronics company Bang & Olufsen is the privileged shopper's answer to custom sound and audio needs. Their systems are available in luxury homes and automobiles, like Audi, and their latest Beosound TV costs a staggering $85,000. Although B&O Play is a Bang & Olufen sub-brand, it is not geared towards making cheaper products, but more playful, stand-alone items. For a smaller price, the exclusive A9 speaker combines the brand's powerful sound and advanced technology with contemporary style.
If you need to hear for yourself, the BeoPlay A9 will be available in the U.S.in Bang & Olufsen showrooms, select design stores, and online starting mid-November. Priced at $2,700, this speaker will turn heads, even if just for its look.