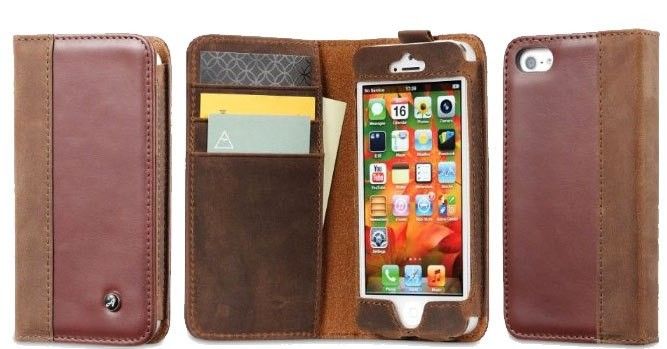 Photo Courtesy of Acase
iPhone's are everywhere, even little kids and grandparents have them nowadays. With such popularity it's no surprise that nearly every relevant company is trying to come out with the next must-have iPhone gadget. Here's three such products that we think are actually worth investing in.
The handsome new Collatio leather case ($39.90) by Acase is not just a case for your new iPhone 5 but also a handy wallet that is large enough to store credit cards, money and even some business cards within. We think you'll love the soft leather yet classic design of this ďgrab and goĒ wallet that literally has everything you need in one compact scratch resistant location. The phone itself fits snugly into the case, which has elevated sides to further prevent scratches while allowing for full accessibility of all controls.
We also love
Swissvoiceís
ePure Bluetooth station because this is not your ordinary handset. From this retro accessory, you can not only make hands-free calls but also stream music and charge your mobile phone through the docking station. You can even do some portable music streaming with two powerful compact Bluetooth stereo speakers, control the music level, play and pause, all within the sleek ergonomic comfortable handset. (Photo Courtesy of Swissvoice)
Itís time to hit the high-rolling streets with
Bravenís
625 speaker ($179.99). This is not your average audio device though; weíre talking high fidelity powerful sound. The custom HD audio drivers provide stereo audio amplified by left and right channel passive sub woofers and can be used wirelessly with any Bluetooth device. We love the extended length power bank that allows you to play music, take calls, or provide a soundtrack for other media for up to 16 hours. Take it outdoors and you donít have to worry about it because of its rugged shock absorbing exterior housing. Itís just what you need to complete your active lifestyle. (Photo Courtesy of Braven)