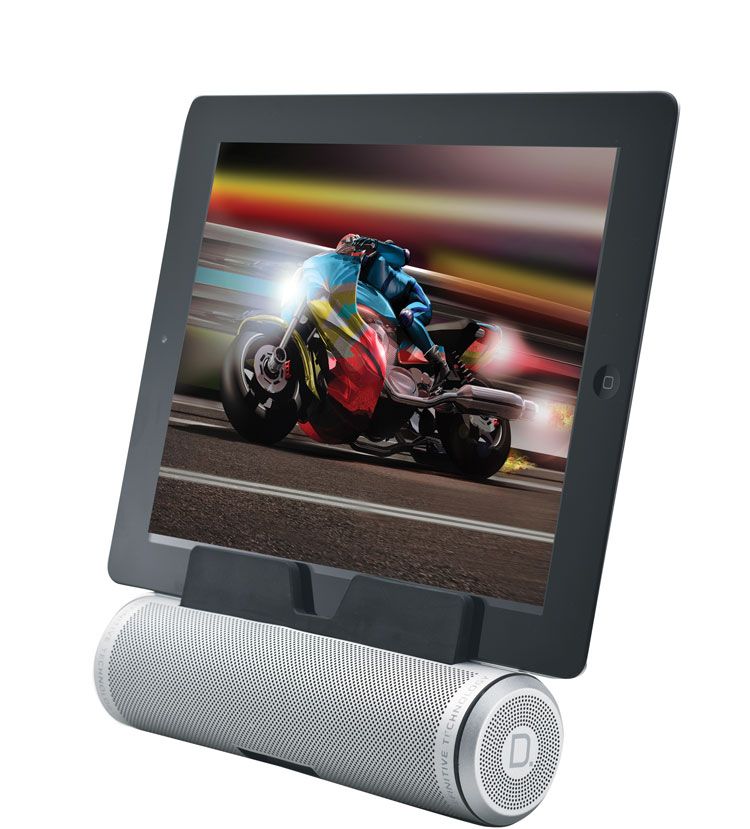 Photo Courtesy of Definitive Technology
Wires can be the bane of a technophile's existence, jutting out from various devices, and threatening to ensnare you in a tangled web of cords — or at least break something expensive during a quick bathroom break. Tablets and mini-laptops are perfect
luxury electronics
for those on the go, so why be slowed down with wires from an external speaker? For the astoundingly popular iPad and other tablets, Definitive Technology is releasing a new portable, wireless sound system — the Sound Cylinder. President Kevin Duffy explains, "Headphones are fine but they're not always practical, especially when you want to share an audio experience with others. Sound Cylinder answers the need for convenient high quality audio on the move."
The Sound Cylinder is designed to interact with any Bluetooth enabled device. Attached to the unit is a special clip system that keeps the tablet in place, and a retractable "kickstand" lets the Cylinder double as a stand and keeps the screen at an angle for viewing purposes. Functionally optimal for tablets, it can also be used with phones and anything else with Bluetooth capability.
Promised by its designers to bring high-performance sound to portable devices, the Sound Cylinder delivers audio by a 2.1 channel bi-amplified system. Two front-firing midrange speakers and a side-firing subwoofer - along with Surround Array image enhancement processing - are supposed to provide surround sound from this small instrument.
Sound Cylinder also connects via an audio cable to analog outlets for old school users. Sound is emitted through perforated aluminum, and the kickstand and clamp are constructed from a special Magnesium alloy. Conveniently, the battery life matches the 10-hour life of the iPad.
Frog Design and the DEI Global Design Center collaborated on the making of the Sound Cylinder speaker system, while Definitive Technology has been around since 1990, specializing in home audio and home theater loudspeakers. It will be available in specialty electronics stores and on-line in January 2013, priced at $199.