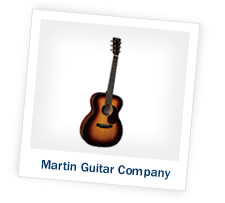 The Martin Guitar Company: It's a Family Affair
What do Eric Clapton, Nancy Wilson, Johnny Cash, Sting, Roy Rogers, Tom Petty, Steve Howe Judy Collins, Cathy Fink, Gene Autry, Lester Flatt, and Woody Guthrie all have in common? Each of these artists has at least one signature-edition guitar made in their honor by the Martin Guitar Company. Since 1833, this company has produced some of the greatest acoustic guitars ever made. A listing of the musicians who own a Martin guitar would be among the largest list of Who's Who in the History of Music. Free of stereotypical classifications, owners of Martin acoustic guitars are a diverse group who stem from all musical genres. Elvis Presley played a D-28 while making all of the famous Sun Record recording sessions. Kenny "Babyface" Edmonds has a signature-edition guitar in his honor. It is the quality of the sound that has hooked all of them.
SeaBreacher Dolphin Makes Waves
Innespace's SeaBreacher Dolphin is the second dolphin-shaped submersible vessel produced by Innespace. The Sweet Virgin Angel, which is a one-seat model, was the first porpoise-inspired design by Rob Innes and Dan Piazza. Powered by a supercharged 240 horsepower Atkins' rotary engine, the two-seat SeaBreacher Dolphin skips across the water at 30 mph, and goes 20 mph when submerged. Joystick controllers and foot pedals operate the mechanical fins and the tail. The large see-through canopy provides passengers a very scenic view. The mammal-look-alike craft leaps, dives, and barrel rolls just like its namesake. It can remain underwater (hold its breath) for up to 15 seconds.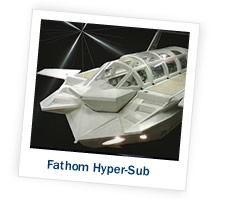 Fathom Hyper-Sub: One Hull of a Project
Mr. Reynolds Marion, the creator of the Fathom Hyper-Sub, has been thinking about this since he was 11 years old. This is the first portable submarine capable of operating autonomously. Portable submarines do not operate independently, as transport and support ships are required for the vessels to function. Marion's Fathom Hyper-Sub is a self-contained submersible that can be deployed directly from the dock. The greatly reduced operating costs coupled with the revolutionary performance capabilities of the Fathom Hyper-Sub could dramatically increase the usage of portable submarines for science, military and business purposes.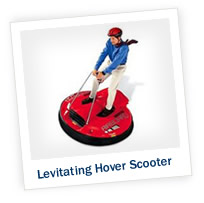 Get a Rise with a Levitating Hover Scooter!
This is one of the most intriguing upscale gadgets I have ever reviewed. This is neither a video game nor a lawnmower run amok nor a dream. It really is a levitating hover scooter, replacing the magic carpet so often used by genies of the 20th century. It is not street legal, but it does travel up to 15 mph. Its recommended usage is over relatively level land, such as well-groomed grassy fields, and asphalt or concrete surfaces that are free of debris. It is ideal for parks, fields or yards. The easy-to-use clutch and throttle controls are built into the handlebars, and it can be safely coasted to a stop over a distance approximating 20 feet. Read more