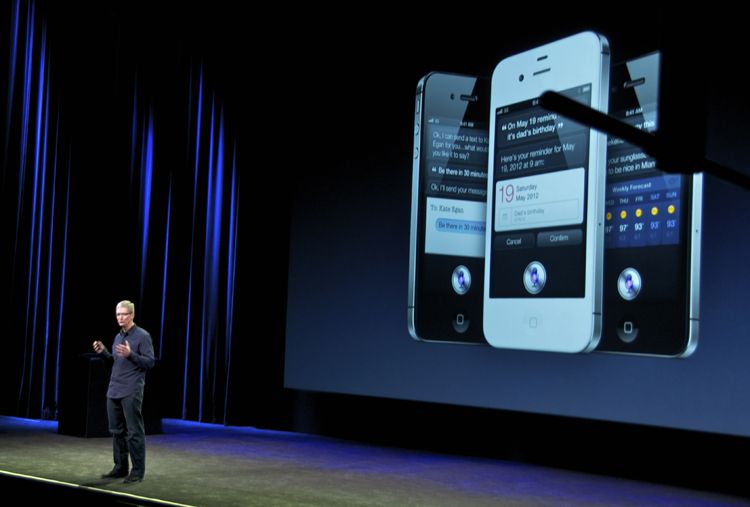 Apple
is good at, it's unveiling new changes to their products right after you finally got used to their latest offering. You can pretty much bet on the fact that a few months after you finally buy the latest iPhone,
Apple
will reveal an update you must have. Today in San Francisco the mega-brand announced a new operating system for iPhones and iPads that will completely change how the touchscreens look.
Before we tell you all about it though, let's take a look at the iPhone through the years, from the first one in 2007 to the current trendy piece of luxury technology.
First Generation iPhone
The first generation iPhone was released in 2007 and boasted a full touchscreen (which was still pretty rare back then), a 3.5-inch display screen, either 4GB or 8GB of storage, visual voicemail, automatic Wi-Fi, Google Maps, and a Safari browser. While its 2-megapixel camera wasn't that impressive, people loved the phone's built-in abilities and trendy appearance.
iPhone 3G
The iPhone 3G was released only a year after the first iPhone hit the market and was a more enhanced version, upgrading from 2.5G to 3G. The design was a bit sleeker and promised a better battery life and the ability to use third-party apps.
Photo Courtesy of Apple
iPhone 3GS
Released in 2009, the iPhone 3GS was supposedly faster than the prior models. With a 3.0-megapixel camera that could also record video, the 3GS touted better graphics and brought in voice control.
iPhone 4
The 4 was unveiled in late 2010 and marked big upgrades. With a completely new look, including the stainless steel band around the sides and a high-gloss glass finish, the phone had higher resolution Retina display and was available in either black or white. Internally it offered a 5-megapixel camera (which has a front-facing feature) that's able to record 720p videos, the new A4 processor, better battery life and Wi-Fi. The iOS brought in iBooks, multi-tasking abilities, and a new storing feature that used folders.
iPhone 4S
The upgraded 4S, which many thought would be the 5, was released in October 2011. Though the changes weren't vast, the phone saw some improvements in the camera (upped to 8-megapixels and 1080p HD video recording) and the appearance of a new A5 chip that brought in the voice-controlled Siri.
Photo Courtesy of Apple
iPhone 5
2012 saw the release of the iPhone 5. Thinner and lighter than even before, this phone got a screen increase to four inches and switched from a glass casing to aluminum. Visually, the phone's color changed to offer a two-tone backing that's either white/silver or black/slate. It features a quicker A6 chip that gives you greater battery life, a better working front-facing camera (as well as the addition of panorama shooting capabilities), and a Lightening connector that's much smaller than the original.
Photo Courtesy of Apple
iOS 7 Reveal
Now that we're all caught up, the new iOS 7 coming this fall introduces a bunch of new features, like a Control Center, AirDrop for iOS, and "smarter" multitasking. Tim Cook, Apple CEO, says that the upgrade is the "most significant iOS update since the original iPhone." The screen has a 3D-like look that gives depth when you move it around in your hand. The keyboard will be a little translucent and the Control Center will be found by swiping up from the bottom of the screen — which is where you'll find Wi-Fi controls, apps, brightness control, and a built-in flashlight app.
One of the upgrades that I'm the most excited for is automatic updates, making it so you won't have to bother with updating your apps manually in the App Store. Other features include better photos, an upgraded voice for Siri (you'll be able to make her a man and apparently the voice won't sound so robotic), and an enhanced notification center. There will also be the introduction of iTunes Radio, which seems a lot like Pandora, that will adapt the radio to your personal preferences.