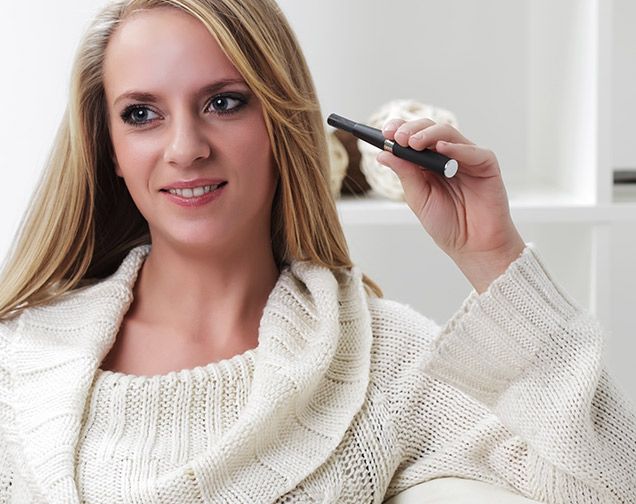 Photo Credit: Chepko Danil Vitalevich/Shutterstock
Lately, it seems like e-smoking is everywhere. First e-cigarettes popped up in kiosks, the sales clerk blowing what appeared to be smoke in the middle of a shopping mall. Now even the gas station sells them. Annual sales for
e-cigarettes in the United States are at $500 million
according to the
New York Times
. Some use a liquid cartridge, others let you fill them with loose tobacco. As it turns out there is indeed a luxury market for these puppies too, so we thought we'd round up a few. Because hey, using one of these things to quit the real deal is a whole lot cooler looking than that patch thing.
Pax
If Apple decided it was in the e-smoking market, we are pretty sure they would have created Pax.
Ploom
, the company that created this particular device hails from San Francisco no less. The Pax has the look of an iPod, with a similarly minimalist approach. One LED light on the front communicates everything from charge level to temperature. Priced at $250, this is a well-designed unit that, like the WISPR2 down below, looks nothing like something you would smoke (or rather vaporize) out of. Features include motion sensitivity (it knows to go into standby when you set it down); magnetic charging station; simple design: the mouthpiece pops in and out, also serving as the on/off switch. Pax comes in four colors including purple, blue, black and the newest shade: emerald green.
Photo Courtesy of Glamorous
Glamorous
And oh-so-glamorous they are. Completely blinged out and anything but subtle, the
Glamorous Luxury e-cigarette
is bejeweled with Swarovski crystals (because what
isn't
these days) and designed in Italy. How fancy. All joking aside, if you are into the flashy look these are pretty cute (read: girly) and come in a variety of colors; the company even offers a "made-to measure service" allowing clients to dictate patterns and design.
Photo Courtesy of iolite
WISPR2
Unlike the hookah-esque Glamorous, the
WISPR2
vaporizer looks more like a hand radio. Starting at $200, the boxy Iolite device comes in a slew of colors from bright orange or baby blue to brown or black. Iolite is actually backed by an Irish company that has a history in butane powered tools, so it may come as no surprise that these particular units are powered by the fuel. According to the company the WISPR 2 reaches 410 degrees Fahrenheit in 30 seconds, making it the "most powerful vaporizer to date."
Photo Courtesy of Vaped
Vaped
More reasonably priced starting at the $70 mark, the
Vaped
vaporizer is actually pretty packed with features. There's a backlit LCD screen showing how many times it's been used since the last charge, as well as a battery percentage display. The unit has a more typically elongated look, similar to what the Smoking Caterpillar used in Alice in Wonderland. The Vaped is chargeable via micro usb and is constructed of stainless steel that is coated with a rubber material.
Photo Courtesy of blu
blu
blu e-cigarettes
are the most conventional on this list; they actually come in a rechargeable "pack," and are the same size as the real thing. The difference is that they are filled with liquid. blu charges via usb and comes with a car attachment as well. Users can choose from a variety of flavor cartridges from pi?a colada to peach or vanilla. Starter kits contain two batteries, the "pack" (which is really a case that the batteries charge in), five cartridges and the necessary chargers. They start at $70.