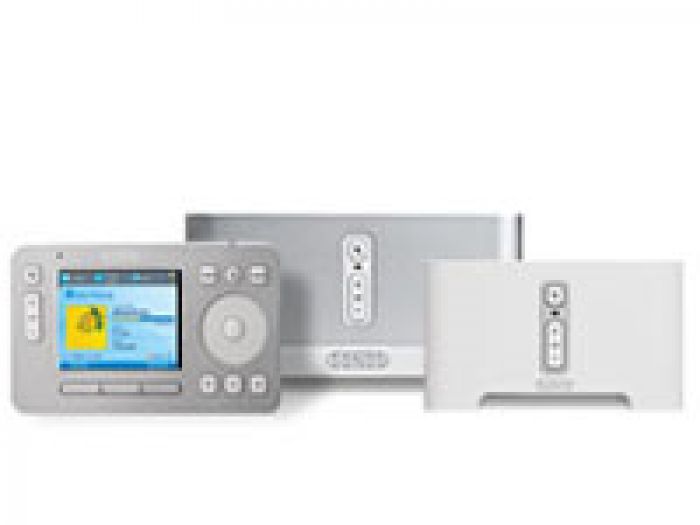 Luxury Home Electronics:
If you haven't yet heard of Sonos, your ears are in for an unforgettable experience.
The Sonos Bundle 150 just might be the best way to listen to music. With two ZonePlayers and a handheld controller, you can wirelessly play music in any two rooms of your home. When it comes time to add more rooms to the sound system, simply purchase more ZonePlayers and you can listen to you can listen to your favorite song in every room.
Sonos believes all rooms should be created equal. That's why you can put ZonePlayers in absolutely any room where you want music - either connected directly to speakers or to your home theater and stereo system. With Sonos, no room is off-limits and you can add music to practically any number of rooms: the bedroom, the backyard, the garage, even the bathroom.
To begin playing, take the full-color wireless controller, pick a room, decide which song you want to play in that room and simply hit "play." The controller offers instant access to your entire music collection but also includes access to thousands of Internet radio stations so you will never be at a loss for music.
The best part about the Sonos bundle is that there is no technical or wiring experience requires to set the system up. You simply need a high speed Internet connection and router. Once one ZonePlayer is connected to the router, the rest of the system will work wirelessly. You can even set up a playlist that you would like to wake up to, take a shower to, relax on the outdoor patio with and dine by. Tune in to a radio station halfway round the world.
The Sonos controller gives you instant access to all your music and all your rooms. You can turn off the upstairs music from downstairs or change the song in the kitchen from the den. Each controller works wirelessly and you can have as many connected to one system as you want. You may choose to play the same song in different rooms with perfect synchronicity or play several songs and control the volume in various rooms for those with unique musical preferences.
In 2006, Sonos was the first network connected device in the home to eliminate the PC/Mac from the music experience with Rhapsody integration. Today, Sonos connects customers with millions of songs and thousands of radio stations via 25k+ Internet radio stations, Rhapsody, Napster, Last.fm, Pandora, and SIRIUS Internet Radio.
The Sonos Bundle 150 retails for $999 and can be purchased at www.sonos.com.
For LxM Kellie K. Speed