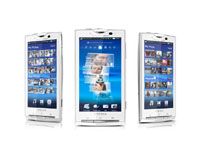 Luxury Cell Phones:
The new Sony Ericsson
XPERIA X10
is a must-have for anyone who wants everything at their fingertips. The new cell phone is designed to deliver a consistent user experience and ultimately narrow the gap between communication and entertainment.
Building upon the popular Open OS, the X10 features a new UX platform, which combines rich graphics with intelligence capabilities and offers signature applications, such as Mediascape and Timescape™. With Mediascape, users can easily get all the music, photos, and videos they want from their favorite friends or artists, and then manage those, as well as every other communication with one person by utilizing Timescape™. This unique function allows the user to browse through conversations, photos, e-mails, texts, and social media effortlessly.
The XPERIA X10 comes equipped with an intelligent face recognition feature that has the ability to recognize up to five faces in any picture. The software then connects those faces with the user's social phonebook, as well as any other related communications with that person. Mediascape, Timescape™, and the face recognition capabilities can be easily accessed by simply pressing the phone's "infinite button." Additionally, the all-new XPERIA X10 supports a wide variety of applications, which can be easily downloaded through PlayNow™ and the Android Market.
"The XPERIA™ X10 is a fantastic example of our make.believe philosophy because we are pushing the boundaries of what is possible and demonstrating that anything consumers can imagine, we can make possible," said Rikko Sakaguchi, EVP and Chief Creation Officer, Sony Ericsson. "With the X10, we are raising the bar we have set ourselves with entertainment-rich phones like Aino and Satio by making communication more fun and playful, multiplying and enriching opportunities to connect."

You can expect the new X10 to be available in select markets very soon, it's slated to hit stores during the first quarter of 2010.

For more information on the XPERIA™ X10, visit www.SonyEricsson.com.

For JustLuxe Christina Stewart