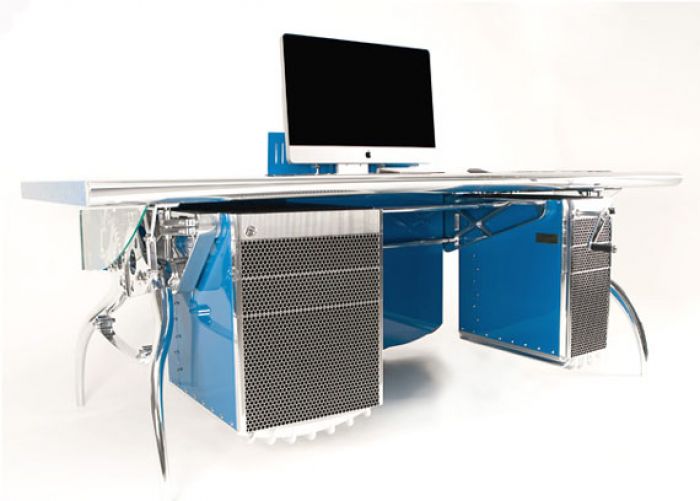 Photo Courtesy of Luzzo Bespoke
Who wouldn't want to be at the helm of an elite racecar, on or off the streets? Luzzo Bespoke has made the fantasy a reality with the introduction of racecar-inspired executive desks. The mother of all racing desks is the "Bugatti inspired Executive Desk."
The "Bugatti inspired Executive Desk" takes its style cues from the
Bugatti
Grand Prix racing cars of the late 1920s and early 1930s. Luzzo Bespoke has taken all the fine details of the luxurious car and translated them into aspects of the executive desk's design, like "the drive gears for the height adjustment are a scaled up version of the Winfield carburettor synchronisation quadrants from a Type 57 and the drawer fronts reflect the honeycombed grill."
Even the actual construction of the desk is inspired by the processes Bugatti used to build cars in the 20s and 30s. Instead of cast aluminum parts, Luzzo Bespoke has machined them from billet with the rest being made up of aluminum frames clad in riveted aluminum sheeting.
The complete attention to detail in the Bugatti-inspired desk has resulted in 3,000 hours of CAD, machining, polishing, sheet metal work and lacquering. It is finished in French racing blue lacquer with a tan leather writing area, like the interior of a Bugatti of the era.
In addition to streamlining the Bugatti, the desk also features a technological advancement in the form of a Mac computer, which is deployed via a motorized mechanism and disappears into the desk at the touch of a button.
Other executive racecar-inspired desks are available starting from £40,000, but the Bugatti model retails at £150,000. Visit LuzzoBespoke.com to see more.
See our picks for
Best Home Furnishings