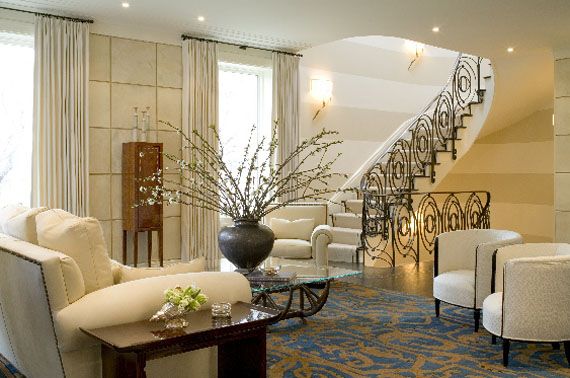 Photo Credit: Tria Giovan, Aaron Leitz & Alan Shortall
Handmade rugs can be intimidating according to Alix Perrachon, author of
The Decorative Carpet in Interior Design
, a new and definitive book on selecting the perfect underpinning for your home. The mission of Perrachon's book is to remove the fear of investing in what can easily be the most impactful and expensive element of a room.
Perrachon was quick to blame her obsession with rugs on her husband. When her French husband was transferred to Ankara, Turkey to fulfill his mandatory military service, she wasn't sure what path she would take. After this point she worked for
Hali Magazine
in London from 1981-1983 where her path slowly became clearer. Because Turkish rugs, called kilims, fascinated Perrachon, she wrote about them. Before long, she knew the most reputable and knowledgeable producers and importers.
When she returned to New York, she plunged into her writing and publishing career, and suggested articles about rugs to the magazines
House and Garden
and
Antiques World
. She was completely hooked on the topic and quickly immersed herself in learning about the rug world in the U.S.
Perrachon worked from home for seven years after she had her first child, during which time she revamped the
Oriental Rug Magazine
. She wanted to write articles featuring top interior designers and how they used rugs in interior spaces. She faced resistance from publishers who claimed that rugs portrayed as isolated art objects were heresy because they belonged in tents or palaces.
Perrachon fought the battle for several years and when she wrote a feature article for
Hali Magazine
on famed designer John Saladino they were unhappy because rugs weren't "collector's items." Her passion for rugs continued, and by 1991 she started a rug consulting business to help private buyers and
interior designers
buy rugs. Perrachon's clients asked how they could educate themselves about the world of rugs and what they could read.
They wanted an accessible and informative book, and that sparked her latest project, a compilation of twenty of the most popular rug types shown in room settings. Rather than focus on the mechanics of construction and knots per inch, she carefully focused the writing and photographs on the beauty of the different styles and designs.
Perrachon revealed one of her favorite rooms by Suzanne Lovell on page 159. It features an area rug that is not technically room-sized, yet is skillfully anchored next to a sisal rug. The juxtaposition of different types of rugs used in one setting shows how blending styles creates interest.
"West coast designers like Suzanne Tucker are more adventurous," said Perrachon. They are not obsessed with finding room sized rugs. Perrachon particularly loves the blend of an antique Heriz with a modern painting in a sophisticated room by Terry Hunziker, featured on p. 130. Who says old has to be dowdy?
Another favorite room by Samuel Botero, shown on p. 39, displays a 100% impressionist-inspired rug with vibrant blues, corals, and yellows integrated with modern art. "Luscious" is her simple description of an ocean view Palm Beach interior by Bruce Bierman. The antique rug is the perfect foil for the well-appointed space. Finally, the cover shot of a room by Robin McGarry shows that an inexpensive, vegetable-dyed rug can be the "perfect selection for lean and mean times," said Perrachon.
This user-friendly book invites lingering and repetitive study. It is a perfect read for interior designers, retailers, and end users. Perrachon hopes her love of rugs and their beauty will inspire and foster appreciation for these beautiful artifacts. Perrachon knows that consumers are scared of making mistakes especially in this economy, and designers also "want to get it right" when selecting a rug. Seeing a rug in the context of a complete room can prevent costly errors.
For those who are interested in green and organic products, rugs are the perfect long-term investment vs. machine made carpeting that contributes almost 5 billion tons of waste per year. Perrachon cautions investors to be careful when considering a custom rug. She says you need the guidance of an insider to avoid the "rug mafia" as she calls the disreputable vendors. Since rugs are sourced globally, and some countries of origin are experiencing inflation, it's important to know whom to trust. Perrachon advises checking the track record of the vendor prior to ordering. For more expert advice on investing in rugs, visit
AlixUnlimited.com
.