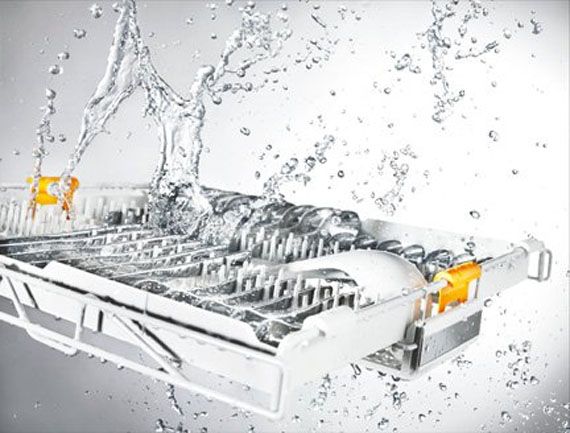 Photo Courtesy of Miele
Miele, the best-performing appliances in the industry, has announced the introduction of the new Futura series dishwasher, "The World's Most Intelligent Dishwasher."
Founded in Germany in 1899, Miele remains committed to providing consumers with the highest quality, performance and environmental standards. The Miele range of appliances includes vacuum cleaners; laundry systems; rotary irons; dishwashers; built-in convection, speed and steam ovens; cooktops; ventilation hoods; refrigeration; wine storage and espresso/coffee systems.
"The Futura Series will revolutionize the entire
dishwasher
industry and make life in the kitchen much easier for our clients," said Paul McCormack, spokesperson for Miele, Inc. "We claim this is 'The World's Most Intelligent Dishwasher' given its brilliant engineering - both inside and out."
"Futura marries state-of-the-art sensor wash technology that measures load capacity and water quality with patented baskets that allow total flexibility, regardless if you're loading heirloom crystal and china or oversized platters. Given our past and current track record of excellent performance and our absolute confidence in Futura, we've placed a money back guarantee for superior and quiet cleaning on every dishwasher."
The Futura dishwasher is fully adjustable to accommodate awkward kitchen tools like whisks and spatulas. The new 3D Cutlery Tray holds each utensil separately for maximum hygiene, all the while remaining adaptable to accommodate other items, even Riedel crystal. LED lights highlight space for consumers to easily gauge whether or not there is room for "just one more thing."
The innovative Futura Series dishwashers range from $1,249 to $2,849, retail price, depending on the model selected and are available nationwide through authorized Miele dealers and direct sellers only. Visit
MieleUSA.com
to learn more.