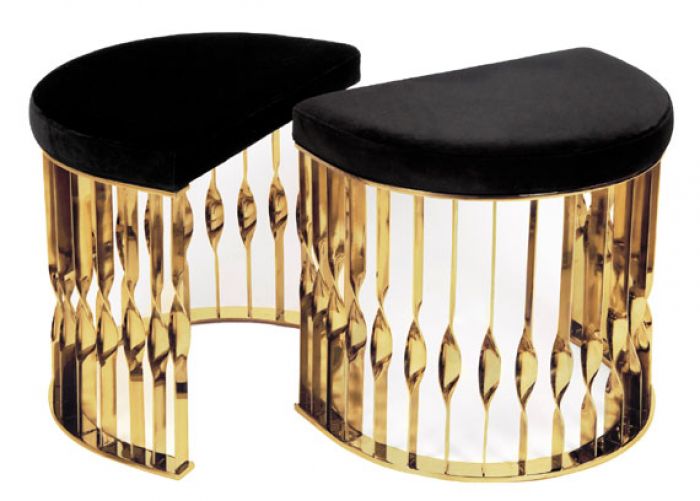 Photo Courtesy of KOKET, Love Happens
If your home décor could use a little shaking up, KOKET, Love Happens has introduced its debut collection, Guilty Pleasures. The brand's name stems from Creative Director Janet Morais' nickname, Janette la coquette, a reference to Janet's playful personal style, which is rooted between her mixed upbringing in both Europe and the States.
KOKET is a creative furniture line of "hyper-feminine," ultra luxurious furnishings, which are filled with romance and tinged with mystery. The Guilty Pleasures collection includes dramatic statement accent pieces like console tables, screens and other inventive offerings. They act like
accessories for the home
, the way a statement necklace can update and change the look of an outfit.
"KOKET is devotion to the seduction of the exquisite and to the enticement of love. Highly influenced by the decorative arts, fashion, flora and fauna, forms and decorative techniques from glamorous eras past reappear in the most sophisticated versions of contemporary trends. KOKET brings empowering style to a highly edited unique collection of furniture, passing on a distinguished sense of entitlement."
Further playing up the interior space, KOKET uses creative materials in each piece which are seldom seen in the home décor arena. Favorites include jewel tones, exotic stones and metallics, which are more reminiscent of jewelry than furnishings.
The expertly crafted pieces are manufactured in Portugal by master artisans and jewelers to ensure that each detail is perfect and nothing is overlooked. The collection and more information about the inspiration for the decadent line rooted in flights of fantasy can be found at
ByKoket.com
.
See our picks for
Best Home Furnishings