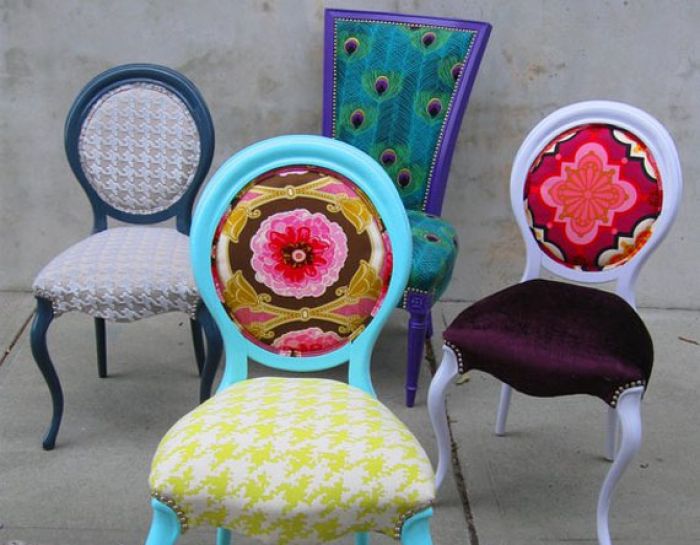 The Divine Chair
The Divine Chair embodies all the elements of a high-end lifestyle in this age: art, design, and sustainable living. Designer Kitty McBride takes vintage chairs and gives them a whole new life using beautiful, unexpected fabrics. While eco-friendly designs have gotten a bad rap for being dull and dreary earth tones, McBride turns the stereotype around by using bold fabrics and pops of color to make old furniture sparkle.
McBride's clever eye gives old pieces a "chair-lift" by re-dressing them with bright, whimsical textiles, preserving the antiquated air of the chair while rejuvenating it with a stylish touch. "Reduce, Re-Use & Re-Style" is the way that McBride transforms what could be trash into treasures, and chic enough to reside in any well-appointed home.
The experts at Divine Chair do create their own
home furnishings
, but are also savvy experts when it comes to reupholstering. If you have an old chair, sofa or ottoman that doesn't fit in with the rest of your look but it holds special memories, Divine Chair can update it for you and make it look good as new.
McBride's love of color comes through in every revitalized antique piece, making exceptionally unique works of art out of worn out chairs. If you don't have a favorite piece, McBride's eagle eye is sure to scout out the perfect one at a flea market and then restore it and personalize it just for your space. Kitty McBride's Divine Chair has been featured in numerous design publications including
The New York Times
,
Apartment Therapy
and
New York Spaces
. Visit
TheDivineChair.com
to see more.
TOBY $725
MARCUS $1,185
OLIVER $995
ZOE $1,175
NED $475